Episode one of Khloe Kardashian's talk show Kocktails with Khloe premiered on FYI Network Wednesday night with a load of celebrity guests and a very chill vibe.

Rather than a traditional sit-and-chat or panel format, the set is arranged like an intimate dinner party, a smart idea given that Khloe's known as the so-called homemaker of the family who cooks (or sometimes "cooks") the Kardashians' Thanksgiving meals every year. The show's general format— which is ultimately entertaining—offers a mix of serious and light-hearted topics and a relatively smooth combo of conversations and games.
In keeping with this relaxed theme, each guest arrives by ringing the doorbell and being greeted by Khloe. Kym Whitley is the first to join the crew in the kitchen, where sexy chef Sharone is there creating kocktails for the guests. (Important note: the show's logo is written as Kócktails with Khlóe, so two accent marks)
The whole time, Kendall lingers in the background, folding her arms because she's nervous and she can't drink. "I'm not allowed," she says, and you believe her because we've never seen her drunk.
G/O Media may get a commission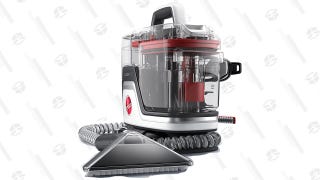 Save $10
Hoover CleanSlate Plus Carpet & Upholstery Cleaner
Sharone (to the right in the photo above) makes a special Smoky Eyes cocktail that's one-part mezcal, one-part Blanco Tequila, with grapefruit syrup he made from scratch. It's infused with rosemary and garnished with fresh grapefruit peel and burnt rosemary, on crushed ice. It sounds tasty.
*Ding* Ah, another guest! Khloe runs to the door to get Glanville, who brought wine! Brandi—who Khloe described as "hoverboarding housewife Brandi Glanville" in the show's intro—is "worried about mixing" drinks, so she sticks with wine.
Khloe has a rich person response: "We all have drivers tonight, so we're all good." Thank goodness!

While Brandi is surprisingly tame at first, Kym is prone to outbursts and flirts with Sharone, who's married with two kids. Once Aisha Tyler arrives, Khloe explains the purpose of the show.
"I wanted it to be a little off the cuff and different and I just wanted it to be fun," she says. "This is what I do at home and I wanted to do that in a controlled environment."
Impressively, Khloe is a professional at juggling all these personalities and settings (perhaps part of that is the show's editing). And much of the conversation seem like they're having a real dinner party and have been friends for ages—a vibe we can credit to Khloe's inviting aura.
After complimenting Brandi on being so open and honest, Khloe immediately asks her about an incident with Eddie Cibrian over the holidays. Brandi tries to avoid the topic—"It's a happy party," she says, to which Kym chimes in, "I got a baby daddy, too."
The topic turns to dating as Khloe "opens up" about her divorce and the double standards of men having marital affairs while women are judged for dating while going through a divorce. "Why am I cast as some Jezebel?" Khloe wonders. Jezebel wonders, too. Aisha responds, "It's important for women to just make strong choices and stick by them," which is vague.
Lot of life gems being thrown around already, as well as Kardashian-Jenner gossip. "My little sister and I, we grew up with our fame. It grew into us as we were growing," says Kendall. "We don't know any different and we have our sisters to look up to." She adds, "I've always just had very good instinct with friends." Khloe says, out of everyone, Kendall is "the most guarded" and "most hush hush" about her dating life, but we already know all this.
No talk show is complete without dumb games, so while drinking their Smokey Eyes kocktails, the group plays a game called Swiper, where they approve celebrities they want to bang: Michael B. Jordan (would, they say), Michael Fassbender (would), Cate Blanchett (Kendall says she's "so stunning") and John Stamos ("yes Lord!" says Kym).
Another switch-up from traditional talk shows is that Kocktails with Khloe takes place in a home, which gives them more scenery options. Later, the group moves to the living room for sit-downs as Khloe tries not to make it all seem too much like a stock interview. It works.
A second weird game is introduced: Do Me!—Khloe makes a statement and the guests have to perform an action if it's true. "If you and a partner have ever fallen asleep during sex do three jumping jacks," she says. And "If you've ever had a threesome, dance around each person in the living room like a ballerina." Brandi plays along for the latter. It's weird but watchable.
To further lighten the mood, Kendall makes a prank call to Kim Kardashian to tell her she's pregnant. This is the most awkward moment of the show since Kim is not all that shocked about Kendall's fake news and instead says, "If you want any birth control..." And, "Wasn't I enough birth control in itself? Like, hello." Khloe describes Kim as "the publicist" of the family because she always has a plan outlined. After Kendall pretends to cry over the phone, Khloe reveals to Kim that it's a prank. "Kim is in hiding until she loses some L-Bs," says Khloe, ending the segment perfectly.
So when Snoop arrives, everyone's already a bit liquored up and tipsy. "Your living room is beautiful, baby," Snoop tells Khloe. He's there to promote maryjane.com, his weed encyclopedia. While they're chatting in the living room again, Khloe asks Snoop if he gets high everyday, and Aisha wants to know what he thinks about his portrayal in Straight Outta Compton. Again, the topics are varied and what people would normally talk about at a get-together, so it's not contrived.
After a quick Snoop toast, the guests head to the dinner table to discuss life and celebrity things, like why Brandi isn't on Real Housewives anymore. The responses mostly seem genuine. When Snoop asks Kendall about how she fits into the family dynamic, she says, "This is not to be offensive at all, but I think I'm the most different out of all of them, even down to my look," perhaps a slight knock to her sisters' p-surged bodies.
This is a chance for celebrities to play interviewer and grill each other about their careers, so Snoop asks Kim and Aisha what the entertainment industry is like for black women right now, and they touch on the Oscars.
"Did you see my Facebook post?" Snoop asks. "Fuck the Oscars and fuck the Grammys."
Pause to note that Snoop Dogg just asked, "Did you see my Facebook post?"
Lastly, a final game is played where the guests have to act out a Twitter beef, the one that happened between Nicki Minaj and Teen Mom's Farrah Abraham.
Snoop offers to play the role of Farrah and for some reason recites her tweets with a posh British accent. When Khloe asks who won the Twitter war, Kendall says, "I don't really agree with a lot of Farrah's decisions in life...I'm always team Nicki," confirming that she's the best and shadiest Jenner of all. And with this talk show, Khloe remains the best Kardashian.
Khloe's out-of-context final words of the show: "It fell in my pussy." Apropos.
---
Contact the author at clover.hope@jezebel.com.
Images via FYI screengrabs