"The FBI needs a complete overhaul," Jeanine Pirro declared last month during an infamous opening monologue of Justice with Judge Jeanine on Fox News. "A complete cleansing," she added with relish. In the video, Pirro's voice, staccato with theatrically restrained fury, is a distinctly Trumpian combination of Liza Minelli and a carnival barker. Her eyes bulge with indignation. Her top, lipstick, and eyeshadow are magenta.

Pirro, 66, is one of many cable news sycophants in Donald Trump's orbit, and the gig couldn't be going better for her. As the New York Times pointed out in December, Justice With Judge Jeanine now gets over 2 million viewers during her Saturday time slot, a 25-percent increase from 2016. During the previous administration—Justice premiered in 2011—Pirro, a former Westchester County District Attorney, railed against Obamacare and demanded that the president return his Nobel Peace Prize. These days, she plays defense for the White House, which Trump seems to appreciate.
Her millennial counterpart, who is perhaps more familiar to readers of this website, is Tomi Lahren. Both women find themselves in the midst of a massive feminist backlash, yet both regularly deploy their anger on behalf of the president rather than against him. Unlike Lahren, however, Pirro claims a personal connection to her subject: she likes to refer to her "25 year" friendship with Trump and has followed a controversial, reality TV-peppered professional trajectory that in some ways mirrors Trump's. Pirro is part of a growing ecosystem of eccentric creatures feeding off the president—matching his complaints, mirroring his outrageousness, and being nurtured by his cult of personality. What Trump lacks in actual advisors, he seems to make up for with people like Pirro, whose regurgitated rage-triggers buoy his worst authoritarian instincts. Trump, the Times reported, rarely misses an episode. He'd prefer that you not, either.
G/O Media may get a commission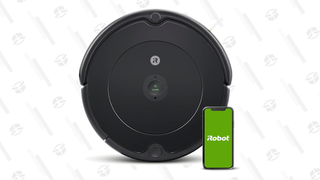 35% Off Black Friday Deal
iRobot Roomba 694 Robot Vacuum
In a real-life, somewhat more Orwellian version of Keegan-Michael Key's 2015 White House Correspondents' Dinner bit as Obama's "anger translator," every Saturday, at 9 p.m., Pirro performs the rage of her most important viewer. (Not that Trump, who isn't exactly known for his placidity, needs an anger translator to begin with. Twitter seems to do the job just fine.) Occasionally, Pirro even snags the rare on-camera interview, though "loudly commiserates with him" might be a more accurate description than "interviews." In one memorably unmemorable interview Pirro's questions for the president ranged from "How was your week?" to "Mr. President, your... your agenda is not getting out, because people are caught up on the... the Comey issue, and ridiculous stuff." (A representative for Pirro at Fox News declined an interview request from Jezebel.)
Pirro is fond of using the term "primer" as a scold—for example, in 2015: "Hillary, a primer: You do not destroy evidence, you do not conceal evidence, and you do not lie." Her primers, as you might suspect, often take on a didactic air, though they are frequently factually questionable. Recently, in response to news that Trump will meet directly with Kim Jong Un, she claimed that "it was Trump's genius and crippling economic sanctions that brought this dictator to his knees." Last month, she waged a vociferous defense of Gen. Kelly's handling of Rob Porter's alleged abuse, using her tough-on-domestic-violence image as a shield for the White House's inaction. In December, #BlackLivesMatter activist DeRay Mckesson sued Pirro for defamation after she claimed he incited violence against a police officer, an allegation that had been thrown out in court.

She also seems to enjoy clowning around. Pirro films a segment called "Street Justice," in which she indulges in stunts; most memorably, she traveled to Chappaqua to "search for Hillary." This involved her poking her head into a dry cleaners and yelling at a probably unnecessary volume, "DOES HILLARY CLINTON DROP OFF HER PANTSUITS HERE FOR CLEANING?", and thrusting her microphone at someone's pet rabbit, asking, "Have you seen Hillary on the news? Have you seen her in the woods?"
It would be a mistake to see her as merely an entertainer, though. She involves herself behind the scenes to material effect; once during a meeting with the president, she reportedly riled him up about Special Counsel Robert Mueller to the point that he became "visibly agitated" and walked out of the room. Pirro, ever eager to show her loyalty, also reportedly pitched a book project to Trump framed as a friendly corrective to Michael Wolff's Fire and Fury. The tentative title of her upcoming book, "Liars, Leakers, and Liberals: The Case Against the Anti-Trump Conspiracy," couldn't be friendlier to the president.
The success she's found with her brand of agitation comes in sharp contrast to the outpouring of female anger we've seen with the #MeToo movement and in the aftermath of the Women's March. Pirro's manufactured outrage seems to be perceived as safe by those who might otherwise experience a woman shouting on television as threatening. There has always been a place in conservative and far-right movements for telegenic women willing to vouch for oppressive patriarchal agendas, and nowadays, the pressures of clicks, views, and ratings assist in keeping that agenda intertwined with the interests of its various mouthpieces. No one embodies this phenomenon better than Jeanine Pirro, a once-promising champion-of-women Republican politician whose public viewpoints now appear aligned with those of a single person.

Unlike Hillary Clinton, Mika Brzezinski, Maxine Waters, or any of the myriad women who have publicly critiqued the president, Pirro's anger isn't "nasty" or "crazy" or "very low IQ" for a reason that is perhaps obvious: It isn't aimed at Trump. Her anger makes no demands of him. He is perfect the way he is, a refrain that has to feel good coming from a representative of two groups (women, judges) who largely stand in his way. Her rhetoric is aimed, instead, at the presidents' perceived enemies, a shifting, amorphous fog that Pirro more-or-less manages to keep up with: political correctness, "the swamp," Hillary Clinton, Bob Mueller, Andrew McCabe, the FBI, the violent Left, Hillary Clinton, the Uranium One deal, the Broward County Sheriff, Hillary Clinton. Did I mention Hillary Clinton? Her face is contoured just so; her voice, a familiar New Yawk squawk. Her arms are perfect and chiseled, the way the president surely thinks a woman's arms ought to be (Trump, in fact, described her as "sexy as hell" to New York in 1999). She jokes around clumsily, clearly enjoying herself. For a very particular kind of baby, it could almost be a lullaby.
Jeanine Pirro was always somewhat controversial, but politically speaking, she wasn't always as extreme as she is today. Some time before she began crying out for the imprisonment of Hillary Clinton on national television, Pirro described herself as a pro-choice, anti-assault weapons moderate with "broad blue stripes" on social issues, and was widely regarded as a "rising star" in a Republican party that if not craved, then certainly needed women's voices.

Widely described as highly ambitious, Pirro kicked off her career by positioning herself as a voice for women. She started one of the first domestic violence prosecution units in the U.S. at the Westchester District Attorney's office, and eventually became the first woman judge in Westchester County. In 1993 Pirro was elected as the first woman District Attorney in Westchester County, a position she held for 12 years, though she reportedly made her fair share of enemies, fielding accusations of grandstanding and "strong-arm tactics" by colleagues ("Name me a person in public life who doesn't have critics. Especially women in public life," she told New York Magazine in 1999 in response). She was named one of People's 50 Most Beautiful People in 1997, where she was described as having "championed the cause of battered wives"; that same year, she was the subject of a mostly flattering profile in The New Yorker that focused on her work on cyberpredation.
Pirro's several attempts at statewide elected office were less successful. This was thanks in no small part to her now ex-husband, Al Pirro, a major Republican donor and Trump associate, who went to prison for 11 months in 2000 on tax-fraud charges. Jeanine Pirro, who was—in an uncomfortable twist—serving as District Attorney at the time of the trial, called the charges against her then-husband "invasive and hostile" (make what you will of that coming from the mouth of a prosecutor). But although she'd established a reputation for herself as tough on organized crime (recently, she has gone so far as to compare the FBI to a "crime family"), Pirro had been contending for some time with "persistent hissing that she's married to the mob," as the Times put it in 1999.
In 1986, Pirro withdrew her bid for lieutenant governor, reportedly to avoid discussing her husband's connection to a Connecticut garbage-carting company with alleged mob ties. She dropped out of a Senate race against Hillary Clinton in 2005 amid questioning about her husband's illegal activities, and after pausing for 32 seconds mid-speech after misplacing a page. Her campaign had also received at least $2,000 in donations from another Connecticut company accused by federal agents of having ties to the Genovese crime family. The New York Daily News reported that Pirro received a total of $12,000 in campaign donations between 2003 and 2005 from donors with alleged mob ties.
("Jeanine Pirro has prosecuted more than 100 members and associates of the mob and has been a leader in the fight against organized crime," her spokesperson said in response to reports at the time. "Any suggestion to the contrary is just ridiculous.")
When it comes to Jeanine Pirro, the plot really doesn't ever stop thickening—a sign, perhaps, that a traditional career in politics was never in the cards. Despite a $20,000 donation from Trump, who has his own links to organized crime, Pirro also lost a race against Andrew Cuomo for state Attorney General in 2006 amid a federal investigation into whether she'd had her husband illegally wiretapped, an allegation she denied. In what became known as the "love bug scandal," she was taped talking to former New York City Police Commissioner Bernie Kerik about bugging her family boat to determine whether Al Pirro—who a few years earlier was found to have secretly fathered a child with another woman—was cheating on her.
This is the same Bernie Kerik who was reported to have mob ties, and was later sentenced to four years in prison for felony tax fraud and lying to White House officials. (I'm thrilled, however, to report that his welcome-back-from-prison party was catered by Albert Manzo, husband of the Real Housewives of New Jersey's Caroline Manzo). Needless to say, like the Trumps, the Pirros were regular tabloid fixtures, and well after their marriage ended, Al Pirro continued to grab Page Six headlines, a particularly notable one reading "Ex-DA's Hubby Threatens Workers in 'Restaurant Rage'" ("You don't know who the f–k we are! I'm going to have you all killed!'' Pirro allegedly screamed).
Pirro denied the wiretapping allegations, and in a now-familiar turn of phrase, she referred to the probe as a "political witch hunt and smear campaign." She cloaked her defense in feminist rhetoric: "There is no way—when I have the opportunity to be the first woman attorney general in the history of this state—that I am going to be pushed out of this race because somebody wants to delve into the personal lives of my husband and myself," she said. "I'm standing up for myself and I'm standing up for women."
In news reports from the late '90s and early aughts, Pirro was often considered a potential bright star whose political future was snuffed out by a seedy husband—a narrative that might have, if we were living in a different universe, led her to empathize with Hillary Clinton. But here, in 2006, her political career careened to a halt, and, buoyed by her brash appeal and apparent agelessness, she pivoted towards entertainment.
In 2008, Judge Jeanine Pirro began airing on The CW. "I've mellowed," she told the Times. If this was the case, it certainly didn't last; at the very least, Judge Jeanine Pirro set the stage for a new, rather amplified persona.
On The Apprentice, which had premiered four years earlier, Donald Trump forged an image of himself as a decisive businessman and master negotiator, an image that, despite being entirely fabricated, made an apparently lasting impression on American audiences. Just as The Apprentice and shows like it can warp viewers' ideas about morality and the workplace, there are indications that true-crime shows and reality TV courtrooms can impact real-life jurors' understanding of the justice system. On Judge Jeanine Pirro, though considerably less successful, Trump's longtime friend attempted to follow his formula, casting herself as a straight shooter with boundless moral authority. "I talk simply, directly, and honestly," she said in the introduction to season one. During filming, the show was picketed by a few dozen protestors who questioned Pirro's fairness as District Attorney.
Pirro was also a charismatic commentator in the 2015 Robert Durst documentary The Jinx, on which she capitalized with a controversial book, He Killed Them All, released that same year. The book was reported to have inflated her role in the case, focused largely on professional score-settling, and was the subject of a lawsuit by its former ghostwriter, whom Pirro dismissed as "pill-addicted." Durst family members and legal experts expressed concern that Pirro's publicity blitz would help the defense.
"If Trump told her tomorrow that Satan was a swell fellow, she'd be on her show saying Satan's a swell fellow," the former ghostwriter, Lisa DePaulo, recently told the Times. "They take care of each other. She will do whatever she thinks helps." (Pirro retorted that DePaulo "doesn't know the first thing about my relationship with President Trump.")
Following Judge Jeanine Pirro's cancellation in 2011, Pirro began filming Justice With Judge Jeanine on Fox News, where she remains today, glowing in front of a slowly flapping American flag like a wrathful goddess of Palm Beach. On the show, Pirro continually reinvents what the word "justice" ought to mean, though her delivery sometimes veers more closely to a very angry beat poet, or an emotionally intense parent reading a speech at her son's Bar Mitzvah, somewhat distracting the viewer from the contents of her upside-down message.
Last month, in a signal of her ascendance within the MAGA flank of the Republican party, Pirro was invited to give the keynote speech at CPAC's Reagan Dinner, which she did with a mix of thunderous appeals to American exceptionalism and goofy asides that didn't quite land. "You know, we live in a time when the truth, and when reality, is diluted to satisfy the masses," she said, before condemning the Uranium One deal and claiming "that leftist" Obama destroyed the American economy.
"How did we get so lost?" she asked. "And how do we get our country back?"
That the entire federal government is technically "back" in Republican hands is evidently irrelevant. Pirro has become a standout voice in a crowded field devoted to reframing the facts to one man's liking, and that man, like his base, prefers to view himself as oppressed. She is the president's image reflected back at him in idealized female form, egging him on, providing a gold-plated fountain of validation for a lawless misogynist who wants to be loved. She is the universe, reimagined. Actually, they are corrupt, she coos; actually, the other side lies. You, in fact, are the victim—and Pirro, a former prosecutor, would know.