In a move that would seemingly contradict previous reports that Chris Noth would not be reprising his role as Mr. Big in HBO Max's upcoming Sex and the City sequel series, And Just Like That, Noth and Sarah Jessica Parker posted pics of themselves in character on Instagram—wedding bands and all!

"These two," Parker captioned her pic, per Us Weekly. "I bet they stay out all night.
"Together again!" Noth captioned his.
G/O Media may get a commission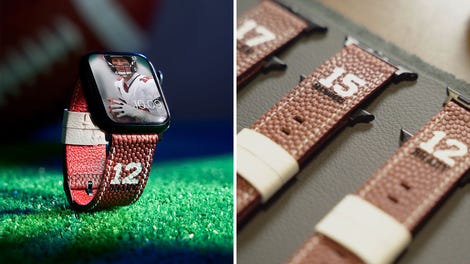 Official NFL PRODUCTS
Official NFL Apple Watch Bands
So, it looks like Noth will be reprising his role on the show and that Big and Carrie and still together?
WRONG.
Or perhaps RIGHT.
But definitely WHO FUCKING KNOWS.
For all we know, these are flashbacks they're shooting, which would explain the scene the two actors shot a few days ago while not wearing their characters' wedding bands, Us reports. Or maybe they're just faking us out like the SATC cast and crew did with all those fake scenes they shot back in the day to keep the franchise's various twists and turns under wraps? The point is, this means nothing. Stop acting brand new!
---
Kool & the Gang co-founder Dennis "Dee Dee" Thomas died on Saturday. He was 70. [Associated Press]
Comedian and The Whitest Kids U Know co-founder Trevor Moore passed away on Friday. He was 41. [Deadline]
Night Court star Markie Post died on Saturday. She was 70. [Deadline]
Julie Bowen rescued a woman who had fainted while hiking in Utah?? [Deadline]
Thanks to Jake Gyllenhaal et al, Dwayne "The Rock" Johnson has now had to come out as a Celebrity Who Bathes. [Page Six]
Jamie Lynn Spears posted some bizarre audio of her 3-year-old daughter comforting her while she cries. [Page Six]
A DJ leaked some pics from former president Barack Obama's 60th birthday party on Martha's Vineyard last night. It sure looks like an old rich guy's birthday party on Martha's Vineyard! [New York Post]
The party was reportedly "scaled down" because of various Delta variant concerns as if anyone on the guestlist hasn't already been administered some kind of TBA 2.0 vaccine that the rest of us won't even hear about for another six months. Speaking of the guestlist: Gabrielle Union and Dwyane Wade were there, as were Beyoncé and Jay-Z, John Legend and Chrissy Teigen, Eddie Vedder, Don Cheadle, Steven Spielberg, and George Clooney. [Hollywood Life]
In an Instagram post, The Suicide Squad star Joel Kinnaman says that he has filed a restraining order against a former partner. The woman, he alleges, has been trying to "extort money and other things of value from me" under "daily threats of physical harm to me and my loved ones and threats to go to the press with fabricated, vile rumors" including that Kinnaman raped her. [Deadline]
Do the kids still say "mood"? If so, mood @ this TikTok of Charli XCX: