Last night, the Daily Show with Jon Stewart won its ninth Emmy in a row for outstanding variety, music or comedy series. The show also won a writing award, the acceptance of which prompted New Yorker television critic Nancy Franklin to tweet, "Jon Stewart's writing staff: 14 men and — wait for it — 2 women! Practically a NOW convention." (There were several more women onstage, producers, for the category award.)
The Emmys are the most public airing, and celebration, of a television show's writing staff, so it's natural to look for symbolism. And as we reported last year, their acceptance has previously been used as a cudgel — in 2003 Stewart notoriously didn't allow co-creator Madeleine Smithberg onstage to accept the award, after tensions that eventually led her to quit.
Franklin also pointed out Conan O'Brien's writing staff of "16 men, 1 woman. He's setting a great example for his daughters." Television writer and David Letterman veteran/caller-outer Nell Scovell noted that O'Brien has only one daughter, but cheered the point. At that point, Terra Nova writer Jose Malina appears to have jumped in to differ, but for whatever reason he deleted his tweets. But Scovell tweeted at him, "Before Nancy pointed it out in the NYer and I wrote for VF, Conan had ZERO writers. So maybe it did help." She added, "And just to be clear, those new writers deserved those spots. We just made it harder for them to be denied." Letterman has also hired two women writers since then, bringing the total to a historic two.
G/O Media may get a commission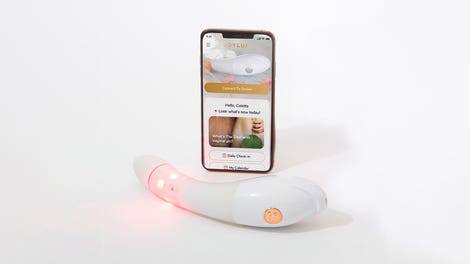 $50 Off
Joylux vFit Gold Device
We point all this out because the controversy cycles burn out so quickly — first a drama, then an earnest discussion, and then a convenient amnesia that allows us to have the same conversation over and over again every few years. Harping on it over and over again may annoy fanboys and lose you followers or friends, but it also makes the criticism way harder to ignore. All the better when people with industry cachet are willing to put themselves on the line to do so.
Speaking of that amnesia, this month has brought two major stories on Stewart, in Esquire and Rolling Stone, that included not a mention, even a dismissive one, of the controversy that the show felt merited an open letter from all of the women on staff. (Last year, New York magazine's entry in the genre, only two months after the uproar, inspired Times culture reporter Dave Izkoff to tweet, "Number of words devoted to Jon Stewart in NY Mag: 5,053. Number of those words that are 'Jezebel' or 'sexist': 0." The magazine printed the tweet but didn't explain the omission, except to say that leaving it out wasn't a "condition of the profile.") He's on the cover of Rolling Stone this month, but not a word about the ladies in the reverent Q&A with the magazine's executive editor, Eric Bates. (Nor in the outtakes.) Esquire's opus, "Jon Stewart And The Burden of History," by Tom Junod, is nearly 7500 words, and it contains only an oblique reference, alongside an anecdote we reported in the original story (Smithberg isn't named here):
There are writers and producers from the first five years of the show, both male and female, who are described as "battered wives"; hell, there are people who used to work for him who are scared to talk about him because they're scared of not being able to work again. And before he pushed out the show's cocreator, he notoriously threw a newspaper at her in a story meeting and then, according to a staffer, apologized to her later with the words "Sorry, that was the bad Jon - I try not to let him out..." ...[These incidents are] not the point - not of Jon Stewart, and certainly not of his comedy.
They're certainly not the only point, but it's interesting who chooses to find the question even worth mentioning.
Update: Here's another voice on it — with video!
Earlier: What Do "Where Are The Women?" Shitstorms Achieve?
The Daily Show's Woman Problem