Mattel announced last week that it is releasing a line of "Inspiring Women" Barbie dolls, including a doll in the likeness of Frida Kahlo. It didn't go over well: In real life, Frida Kahlo had a huge unibrow, a prominent nose, wore long, traditional Tehuana dresses, and lived with various disabilities that often left her wheelchair-bound or bedridden. The Frida Barbie (two words I never thought I would have to put together) has the faintest wisp of hair between her two separate eyebrows, and her face would look like any other Barbie doll's if not for the flower crown on her hair. This Frida, too, doesn't have any visible disabilities. In her life, Frida Kahlo was radical because she subverted sexist and classist ideas of women should look like; remembering her as a Barbie doll neatly erases all of that.
Kahlo's descendants agree, and they are at odds with the Frida Kahlo Corporation, which says it owns the rights to the artist's name and image, and licensed them to Mattel for the Barbie. Frida's grand-niece, Mara Romeo, has been one of the most outspoken critics of the doll, telling the press that she wants it to be redesigned. "I would have liked the doll to have traits more like Frida's, not this doll with light-coloured eyes," she said, according to the BBC.
On Twitter, the account @FridaKahlo shared a statement that Mattel did not have the rights to produce the Barbie doll and that Romeo is "the sole owner of the rights" of Frida Kahlo's image. Speaking over the phone, a spokesperson for the Frida Kahlo Corporation told me that, while Romeo is a shareholder of the company, that statement is not legally true. However, the company's dismissal of Romeo's claims is interesting, considering that the company might not exist today without her mother, Isolda Pinedo Kahlo, Frida's niece. In 2005, Pinedo Kahlo was approached by a buyer and sold the rights to her aunt's brand. Two years later, Pinedo Kahlo passed away; in turn, Romeo inherited her mother's shares of the Frida Kahlo Corporation, and owns a part of the business today.
Still, the Frida Barbie's existence is proof of the limited role Romeo can play in deciding her great-aunt's legacy: One national Mexican newspaper reported that the Frida Kahlo Corporation are the true rights holders.
There have been reports for years of the corporation and Kahlo's living descendants butting heads—and this isn't the first time the company has been criticized for repackaging and selling Frida's image. One of the first things the company launched in 2005 was a line of Frida Kahlo-branded tequila; in real life, the artist struggled with an addiction to alcohol and painkillers. There are Frida Kahlo prepaid credit cards and a Frida Kahlo museum in Playa del Carmen, one of Mexico's biggest tourist destinations, that claims to offers the Frida Kahlo experience but doesn't have any of her original artwork on the premises. The commodification of her image feels even more dishonest when you remember that Frida was also a Communist who risked her life housing Leon Trotsky in her Mexico City home. Sure, she painted her own face over and over—but the way Frida Kahlo's brand has proliferated since her death (including this time with Mattel's new Barbie doll) feels ripped from her politics, as well as the sadness often found in her art, which she dared to make at a time with highlighting your pain with that level of specificity was seen as remarkable. The point of her self-portraits was to bare witness to herself, without caring about who she may have made uncomfortable.
G/O Media may get a commission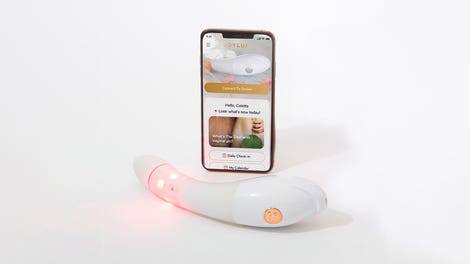 $50 Off
Joylux vFit Gold Device
The point of the Frida Barbie is not that. It sold out last week, and Mattel has not made any announcements as to whether it will redesign the doll.