They are both invited to all my couples' cocktails and massage train parties.
Joe Scarborough and Mika Brzezinski, the two dry, brassy hosts of MSNBC's Morning Joe, have an onscreen chemistry reminiscent of two college radio DJs who just fucked in the booth. They participate in a sparring that is at once mutually reverent and comfortably denigrating; endearing and sexually tense as hell. In other words, the terrain is ripe for steamy, influencer fan fiction that I have already written.
The two were married—Scarborough to former Jeb Bush aide Susan Waren, and Brzezinski to reporter Jim Hoffer—both realities that put America's romantic speculation on the back burner. But in the past few years, they've both become estranged from their partners (Scarborough and Waren divorced in 2013), allowing for rumors to rage. When Page Six reported Brzezinski and Hoffer had divorced in June, the outlet led with the sentiment that the co-hosts, "could soon go public as a couple."
"I could tell right at the beginning," Brzezinski said of her first meeting Scarborough nine years ago in a new interview with GQ as part of a profile on him, "that we were both in a place in our lives where we'd been through enough to know what rough waters feel like, and lost a lot and gained a lot and seen enough to be able to give really good analysis from the gut, from the heart, with no fear."
When GQ's Jason Zengerle asked the pair straight out whether or not they were romantically entangled, Brzezinski would neither confirm nor deny: "I really don't want to talk about my personal life. I mean, I think you can understand that." Scarborough said, "As always, I defer to Mika."
From GQ:
But inside MSNBC, and even on the set of their own show, it's widely assumed that they are a couple. They are frequently spotted outside 30 Rock, traveling together on Nantucket and in Charleston, or sitting at tables for two over cozy dinners in Manhattan. Last December, when Scarborough hosted a Christmas party for friends and colleagues at his home in New Canaan, it was Brzezinski who welcomed guests at the door. Visitors also couldn't help but notice that the giant Peter Max painting of the pair—the one that greets visitors at the Morning Joe offices—also hangs in Scarborough's home.

G/O Media may get a commission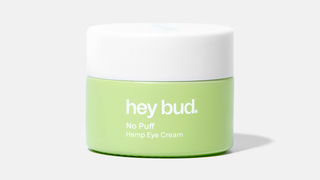 15% off
Hey Bud - No Puff Hemp Eye Cream
Page Six similarly quoted an "NBC insider" as saying, "Everybody at 30 Rock knows they are a couple... They are constantly together, they arrive and leave events together, even on weekends. They are each other's publicists and finish each other's sentences. It's the worst-kept secret in TV."
And it's not as if the two have attempted to conceal their professional-plus relationship.
Two weeks ago, Jezebel received a photograph from a tipster who claimed to have spotted the two at Thomas Sweet, an ice cream parlor in Washington D.C. The tipster provided a breakdown of events: "SUV pulls up, Mika runs out to get ice cream, Joe gets outside SUV and waits for her while leaning against door - Mika runs out and jumps into Joe's arms, which the photo captures, and then she gives him a kiss. Very Notebook-esque."
(Jezebel reached out to an MSNBC rep for comment about the above photograph and will update if we hear back.)
Brzezinski was also Instagrammed by André Leon Talley at New York's Prohibition lounge, where they both were to see Scarborough's band, Morning Joe Music. In his piece, Zengerle also recounted that Brzezinski sipped "a couple of Campari and OJ's and danced on the banquette," at a Morning Joe Music show (they play Prohibition on Thursdays).
According to one news executive interviewed by GQ, the constant speculation about their romantic status is only a positive: "It had the hallmarks of a planted story," they said of the Page Six article. "It had to be either NBC PR floating a trial balloon or they themselves floating a trial balloon."

"Let's just say they weren't upset about it it," said someone close to the pair. "They weren't displeased that they'd been elevated to the front page of the New York Post."
Come into the light, Jika/Brzezborough/Scarinski. We're all waiting for you.