Calling it a comeback was tempting: Almost three years after her most recent album, 2015's Unbreakable, Janet Jackson released a joyous new single and colorful new video. "Made for Now" arrived earlier this month with a slew of promo, marking a complete turnaround from the press-shunning of Jackson's Unbreakable era—an album that at times expressed outright disdain for the media. Jackson sat down for a bunch of radio interviews and debuted the song live on The Tonight Show Starring Jimmy Fallon. With its breezy vibe ("island, African feel," as she described it on Sirius) and guest spot from Daddy Yankee, who helped make last year's "Despacito" one of the biggest singles of all time, "Made for Now" seemed tailored for success.
This is all on top of the wave of goodwill Jackson has been riding this year—the announcement of Justin Timberlake's headlining performance at this year's Super Bowl caused a widespread reexamination of Jackson's career-upending own headlining Super Bowl gig in 2004 and the ensuing fallout known as "Nipplegate." Twitter users christened the day of this year's Super Bowl, February 4, 2018, #JanetJacksonAppreciationDay. Jackson has played well-received gigs at this year's Essence and Panorama festivals and launched a new leg of her State of the World Tour in July (grosses for this leg were not included in Billboard's weekly Boxscore tallies this summer, but last year, the tour grossed over $27 million).
"Made for Now" has debuted at No. 88 on the latest Billboard Hot 100 chart. There are a few ways to look at this, but only the most charitable interpretations would label it any sort of success. Yes, it's her 41st entry on that chart, which brings her run up to an astonishing 36 years. She can still, at least, command millions of eyes and ears—Billboard reports that "Now" racked up 3.7 million streams in the U.S. (its global total on YouTube is at 25 million at the time of publication).
But how many millions more? Given the push behind "Made for Now," it's unlikely to rise much higher than its current number (unless it somehow catches on via a remix or ad placement, which is possible since the song sounds like a socially conscious soda jingle). It may very well be one in a long line of post-peak Janet Jackson singles to come and go rather quickly.
Watching superstars-turned-legends cope with diminishing returns of their releases is fascinating. In the age of social media, attention is more quantified than ever, so audience-retention anxiety has become increasingly relatable. But it must be particularly difficult, confusing even, when at least part of your public identity is derived from your extreme popularity, and then that popularity dries up before your—and everyone's—eyes. Katy Perry said the flop of her 2017 album Witness caused "situational depression." Kanye West talked openly to the New York Times about the stress of no longer being able to call himself the No. 1 rapper. "And it's like yo, no more No. 1s," he explained. "What's the No. 1 tree over there? Just be one of them. All of them are beautiful. If you cut one of those trees down, what would it be worth? Those look like $400,000 trees, just one of them, and look at how many of them are."
G/O Media may get a commission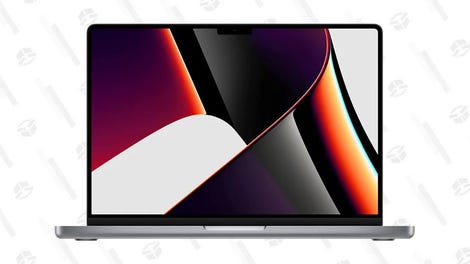 Save $300
2021 14" 1TB MacBook Pro
Some blame their record companies—Mariah Carey did in a 2015 interview with the L.A. Times, reflecting on the commercial disappointments of her Memoirs of an Imperfect Angel and Me. I Am Mariah... The Elusive Chanteuse albums. "They didn't do what they should have done with it," she said, referring to Island Def Jam. "It's like you put everything into something and you put it into someone else's hands and you can't help it. It's upsetting."
Christina Aguilera, whose Liberation had one of the most precipitous drops on the Billboard 200 (from No. 6 in its first week to No. 98) as any high-profile release in recent memory and who failed to place any singles on the Hot 100 from the project, disavowed having any investment in charts at all at this point:
Carey said last year that she was no longer interested in recording albums, that cutting singles was "more fun" (her latest, "I Don't" peaked at No. 89 on the Hot 100). She has since reneged and announced a forthcoming new album. Jackson, according to her ex/collaborator Jermaine Dupri, felt similarly after a string of commercially inert albums (2004's Damita Jo, 2006's 20 Y.O., and 2008's Discipline). "Last time I heard she really didn't want to do an album," Dupri told Vibe in 2010. "She wanted to just do singles every once in a while. She's looked at the marketplace—albums are not really doing what they usually do when you put all this budget out there. Janet is just trying to figure out her landscape."
It certainly is a different world out there, one less welcoming than ever to artists of a certain age, one that shows demonstrable signs of homogenization yet is at the mercy of viral whims. "Made for Now" is something of a surprise precisely because it shows signs of an attempt at hit-making—the greatest feat of Jackson's 2015 Unbreakable album was how unbothered by trends it was overall, how the lyrics emphasized peace and self-acceptance. Maturity did not yield sales—as of April 2016, Unbreakable had sold 253,000 copies in the U.S. (or about three percent of what Janet Jackson's Rhythm Nation 1814 moved after its 1989 release)—but that seemed almost like part of the point. Unbreakable seemed relaxed about its place in the world, as a solid, honest album from an unimpeachable legend whose latest work has the reach of a respected niche artist. And that's just what a lot of these superstars of the '80s and '90s, who retain some fraction of their fervent fanbases, are becoming. It doesn't look like "Made for Now" will become the hit it almost certainly was crafted to be, but how much does that matter? Jackson has accomplished so much that anything else she does from here on out is just gravy.