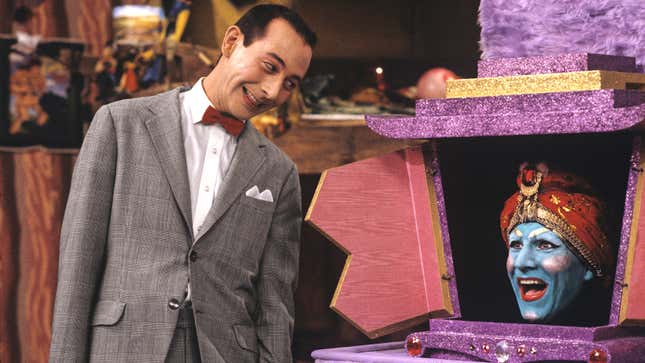 "Heard any good jokes lately?" asked Pee-wee Herman at the start of the 1991 MTV Video Music Awards. With that, the character developed and played by Paul Reubens, and performed on Saturday morning television for children, broke his silence after a career-upending scandal that occurred a little over a month prior. On July 26 of that year, Reubens was among four men arrested at the XXX South Trail Cinema in his hometown of Sarasota, Florida. He was charged with indecent exposure and accused of masturbating in the theater. So began the "tabloid decade," according to Vanity Fair in a retrospective article chronicling the attention-grabbing scandals of the '90s with a through line from Pee-wee to Bill Clinton's affair with Monica Lewinsky.
Incidentally, Reubens denied exposing himself in a July 29 statement. He stuck to that story; in a 2010 interview with Playboy, he recounted:

Had we gone to trial, we had ready an expert from the Masters and Johnson Institute who was going to testify that in 30 years of research on masturbation the institute had never found one person who masturbated with his or her nondominant hand. I'm right-handed, and the police report said I was jerking off with my left hand. That would have been the end of the case right there, proof it couldn't have been me.
Reubens, though, did not go to trial, eventually pleading no contest.
His MTV Video Music Awards appearance on September 5, 1991, is notable not just for the sense of humor Reubens evinced (later, he'd tell Playboy that he had "a publicist then who simply made me do it" and that "putting the Pee-wee suit and makeup back on to go do it was a nightmare"). What's truly remarkable is the groundswell of support from the audience, whose members screamed as soon as Reubens set foot onstage and broke out into an impromptu, "Pee-wee! Pee-wee!" chant. Reubens himself seemed taken aback. "Thank you very much, that really means a lot to me," he told the crowd.
Reubens died Sunday at age 70. According to his rep, Kelly Bush Novak, he had "privately fought cancer for years with his trademark tenacity and wit," reports the New York Times. It feels odd that two scandal-magnets of the early '90s, who provided weeks (if not months) of fodder for late-night talk shows, would die within days of each other. The tributes to Sinead O'Connor, whose death was announced Wednesday, have largely shown retrospective support for her headline-capturing decision to rip up a picture of Pope John Paul II on a 1992 episode of Saturday Night Live. The public outcry at the time had largely opposed O'Connor's statement and she was subsequently booed at a Bob Dylan tribute show.
Pee-wee was a bit different. Though the arrest made him a joke target, there was a rather palpable backlash to the backlash. Many celebrities spoke out in his defense (including, yikes, Bill Cosby, who issued a statement: "Whatever [Reubens has] done, this is being blown all out of proportion"). According to a story in the August 16, 1991, issue of Entertainment Weekly, "A spokesman for the syndicated TV program A Current Affair said the show had received 'tens of thousands' of responses to a Pee-wee telephone survey on July 31, and that the callers supported Reubens 9 to 1 with recorded messages like, 'We have sons his age and these things happen.'"
Still, the corporate response was swift: On July 29, 1991, CBS pulled the five remaining scheduled reruns of Pee-wee's Playhouse (the show had already wrapped its run and was riding out the rest of the season in repeats). What was then known as Disney-MGM Studios pulled a tape featuring Pee-wee from its studio tour. And on July 30, Toys R Us announced it was pulling remaining Pee-wee Herman dolls from its stores, even though few remained.
Reubens told Playboy that he believed the scandal commanded so much attention because he "had never been seen out of character before. I wasn't a social butterfly who was regularly out and about; there were no photos of Paul Reubens anywhere. Suddenly I went straight from being just Pee-wee Herman to that scary mug shot. And let's face it, my mug shot was demonic and raggedy—Charles Manson-y, somebody called it."
Like Cassandra Peterson's Elvira and RuPaul's drag persona (at least in the years before Drag Race), Reubens played Pee-wee on and off-screen. Describing this unique relationship to her character to Jezebel in 2021, Peterson said:
You hear from other celebrities, "Oh, I don't want to be pigeonholed as this character," but for me and for Paul and for RuPaul, we own our characters. It's a business. It behooves us to be those characters. We reap the rewards of the character being out there, not Universal or Paramount. When that really dawned on me that I own this character, I can continue to develop it, exploit it, if you will, and get it out there and benefit from it, I went in whole hog.
Reubens had debuted Pee-wee Herman at Los Angeles' Groundlings Theater in a 1981 stage show and then promptly moved the show to the larger Roxy. That show was taped for HBO. He had even more crossover success with the Tim Burton-directed hit Pee-wee's Big Adventure, and then his TV series Pee-wee's Playhouse, which aired from 1986 to 1991. He was a staple of talk shows—the same kinds that would then make a laughingstock out of his unfair persecution during a ridiculous sting operation. "I get that it's their job, but I had already said the allegations weren't true and felt I deserved the benefit of the doubt from them," he told Playboy. "Make a joke about me but also just say, 'By the way, he's been a friend of our show for many years.' I was shocked people would kick me when I was down."
Reubens recalled his refusal to leave his house in the wake of his scandal. He saw a therapist months later who told him that he was still in shock. He said that falling in love pulled him out of his shell: "I met a woman, an actress—Debi Mazar—at a movie screening toward the end of 1993 and was just so incredibly completely smitten that it was like, Boom, I'm back!" Reubens would appear in some movies after his scandal—notably 1992's Buffy the Vampire Slayer and Batman Returns, as well as 2001's Blow—but he never regained his iconic stature. Still, a well-received run with The Pee-Wee Herman Show on Broadway in 2011 gave Pee-wee something of a comeback, and a Netflix movie, Pee-wee's Big Holiday, followed in 2016. He had another major scandal in 2002, when he was accused of possessing child sex abuse material, which he referred to as an "insane allegation." He eventually pleaded guilty to a misdemeanor obscenity charge after the child pornography charges were dropped in 2004.
Still, he kept his head up. Reubens told Playboy he had no regrets. "It is a journey, and I will not accept a shitty ending," he said. "I spent a lot of time trying to imagine what in the fuck I was being prepared for. What exactly am I being tested for? And I don't know the answer to that right now, but it doesn't matter; I'm going to be ready. Whatever that is, it's going to be really powerful. I mean, if I'm not careful I could turn into Gandhi. I could be like a superpower. I don't mean that in any weird way—but somebody is going to be really impressed, I think, in addition to me. I won't be surprised, but I will be impressed. This has all been too powerful and weird to be just a schnooky comedian's path."