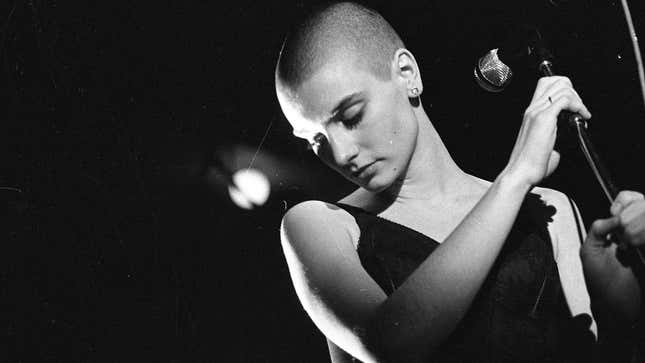 Sinead O'Connor, the Irish singer with a cavernous voice and the fearlessness to display its full expression in public, is dead, according to a variety of news outlets including The Irish Times. A cause of death has not been announced. She was 56 years old.
JoJo Says 'There's Definitely Parallels' Between Her and Moulin Rouge's Satine
People who aren't well acquainted with alternative music of the '80s and '90s probably know O'Connor mainly for two things: her smash 1990 cover of "Nothing Compares 2 U," which Prince wrote, and her tearing up of a picture of Pope John Paul II during the Oct. 3, 1992, episode of Saturday Night Live. Those two events would prove pivotal in her life and career, though not the way many people suspect, according to O'Connor in her wonderful 2021 memoir Rememberings.
"A lot of people say or think that tearing up the pope's photo derailed my career," she wrote. "That's not how I feel about it. I feel that having a No. 1 record derailed my career and my tearing the photo put me back on the right track."
O'Connor was the rare music star who took a stand and didn't back down. Early in her career, her record company pressured her to get an abortion and admonished her for shaving her head. She had her baby and kept her signature stubble. She followed up the enormous success of her second album, 1990's I Do Not Want What I Haven't Got (the one containing "Nothing Compares 2 U"), with a decidedly uncommercial collection of covers of predominantly jazz standards, 1992's Am I Not Your Girl? She never evinced the kind of fear that many stars do regarding speaking out, because, to hear her tell it, she never cared much about holding onto fame. In Rememberings she wrote:
"Success" was making a failure of my life. Because everyone was already calling me crazy for not acting like a pop star. For not worshipping fame. And I understand I've torn up the dreams of those around me. But those aren't my dreams. No one ever asked me what my dreams were; they just got mad at me for not being who they wanted me to be. My own dream is only to keep the contract I made with God before I ever made one with the music business. And that's a better fight than murder. I gotta get to the other side of life.
In her book, she described abuse at the hand of her mother, whom she alternately loathed and adored—she said that when she sang "Nothing Compares 2 U," she thought of her mother (the single tear that runs down her face in the video was prompted by such a memory).
The picture of the pope that she destroyed belonged to her mother. She explained her rationale for what was largely viewed in the media as a stunt in her book. It was a protest against child abuse:
My intention had always been to destroy my mother's photo of the pope. It represented lies and liars and abuse. The type of people who kept these things were devils like my mother. I never knew when or where or how I would destroy it, but destroy it I would when the right moment came. And with that in mind, I carefully brought it everywhere I lived from that day forward. Because nobody ever gave a shit about the children of Ireland.
Those mourning the loss of a gifted musician and struggling woman would do well to read Rememberings, as it allowed O'Connor the space to articulate what was going on in her sometimes conflicted, often witty, and uniformly brilliant mind. The music that she leaves behind should outshine her late-in-life news-making, which almost always found her distressed and embattled. Her catalog isn't vast, but it's full of varied treasures like her beloved debut, 1987's The Lion and the Cobra, and 1994's absolutely lovely Universal Mother. Motherhood was a job O'Connor took very seriously, though she approached that, too, with a sense of humor. "I have four children by four different fathers, only one of whom I married, and I married three other men, none of whom are the fathers of my children," she wrote. Notably, O'Connor's son Shane died last year at age 17.
O'Connor spent much of her public life seeming troubled and misunderstood. Perhaps now people will take the time to understand her. "I'm not a pop star," she wrote. "I'm just a troubled soul who needs to scream into mikes now and then."