As 2017 takes its leave, one thing is certain: the #RESISTANCE has arrived in full force—as a vague political concept, but also as a trend or a meme or a little bit of both. And, as with any trend or meme, the associated merchandise immediately followed, marketed aggressively with a savvy eye towards those who crave gender parity but also like t-shirts, lipstick, or travel mugs. A quick glance through the feminist internet reveals that "resisting" has become a marketing tool rather than actual act—one major flaw with resistance marketing is that buying a t-shirt which broadcasts, say, "WE SHOULD ALL BE FEMINISTS" is an ultimately empty gesture if your only direct action is wearing it.

For a marketplace so steeped in consumer-facing empowerment, it makes sense that the language of feminism and resistance has spread to t-shirts, tote bags, wall hangings, and jewelry. In the face of our occasional-to-frequent feeling of helplessness, brands encouraged rampant consumerism—via skincare, sweaters, plants, or vintage eyeglasses—as a nice stand-in for actually doing something. In particular, designers manufactured t-shirts emblazoned with nonsensical slogans that attempted to package and sell a righteous but fundamentally empty expression of anger.
G/O Media may get a commission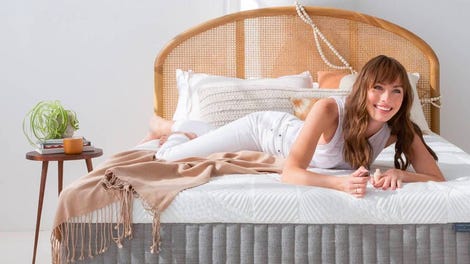 Sleep Sale
Sleep Sale - Brentwood Home
Photographer Liza Cowan, who captured activist Alix Dobson wearing the original The Future is Female shirt in 1975, said this year in an interview that, "The point of buying these shirts was to support the places, the women, or events that created them." But what does resistance fashion mean now? A fast-fashion brand shilling a t-shirt or dad hat that reads FEMINIST AF wants to cash in on the idea that wearing the clothing is a stand-in for action. If no one can pin down even a few central tenets of a phrase meant to describe the action we should be taking every day, then it makes total sense to shill lipstick as praxis. It assumes the worst of the very generation that has been activated since Trump's election—millennials are too lazy to fight, but vain enough to FaceTune their selfies, so woke feminist lipstick and Susan B. Anthony mugs it is. "Today, e-commerce and the huge popularity of slogan T-shirts have changed the whole ballgame. Anyone can buy a shirt without ever setting foot into a women's bookstore or a feminist or Lesbian event," as Cowan put it. "The shirts are are now just free-floating commodities. When you see someone wearing a T-shirt that says 'Feminist' or 'Love wins,' it does not reference a particular event, group, or even timeframe. It's just something you bought."
In 2017, the question of what to wear for the resistance was answered far and wide, from brands eager to profit from the overwhelming sense of despair and helplessness felt by women and other marginalized gender identities who felt their very livelihoods at stake after Trump's win. Here's a roundup of some of their attempts, culled from various PR emails and a year spent trawling the newly-woke, feminist AF internet.
Woke Lipstick
It's easy to use a "THE FUTURE IS FEMALE" shirt as a way to telegraph political leanings and feminist inclinations, but less so with a $19 lipstick in the shade "OUTRAGED." That lack of visibility hasn't stopped a few indie beauty brands from trying.
Lipslut, per their About Us page, was "founded in Los Angeles by a group of jaded romantics" looking to change the world "one face at a time." Their lipsticks come in two progressive shades: F*ck Hollywood, an "outspoken true red," inspired, no doubt, by the actions of bad men across the board. It's a followup to their first shade, F*ck Trump, "selected by popular vote," and purports to be a "lipstick as bold as you." Half the proceeds of each lipstick will go to a charity of the buyer's choosing. Wearing the lipstick—and gleefully telling people that the shade you're wearing is called "F*ck Trump"—is probably part of the intended effect.
Lipslut's more craven cousin is The Lipstick Lobby, another brand that sprung up to sell lipstick to the masses enraged by Trump but resolutely consumerist within that rage. "Please join us in a simple way to protest and make a difference: this bold statement lipstick," they urge. "Wearing this lipstick is a reminder that small actions can create big waves. It's a simple way to speak up and speak out against the threats to freedoms posed by the Trump administration. It's a small thing we can all do right here, right now to create change."
If you'd rather not purchase a Ruby Woo knockoff, don't worry: there's an Outraged hat or a Lipstick it to The Man tote that should do the trick.
Witchy Shit
Witches as an aesthetic are not particularly new, but the political climate in 2017 reinvigorated the witch-as-brand in a way that could reasonably drive someone to madness. As a cultural movement, witches peaked in the late '90s, somewhere between Charmed, Practical Magic, Sabrina the Teenage Witch, and the most-emulated model for 2017-occult witchery, The Craft. When the allegations against Harvey Weinstein broke in October, Lindy West wrote in the New York Times, "Sure, if you insist, it's a witch hunt. I'm a witch, and I'm hunting you." The mentality of women fighting back via dark magick has manifested as shorthand in a particularly confounding line of merchandise on sale at The Wing, a co-working/event space that has branded itself as a necessary (and expensive) must-have for the busy career woman.
For $55, you can buy a sweatshirt that declares your allegiance to the Wing's "coven"—a relative bargain for those who'd like to be a part of their well-decorated, oft-'Grammed community without paying the $215 a month it costs to do so. If you'd rather not throw your hat in the ring of a club that you cannot afford to become a part of, there are plenty other options that might align with your interests: perhaps you'd like to hex the patriarchy; or maybe you just want to show the world that you're a badass feminist who also happens to be a witch. If your capitalist feminist empowerment aesthetic skews more Emily the Strange than GirlBoss, then joining the ranks of a coven bound by slogan tees seems like a perfect fit.
The Slogan-ization of Elizabeth Warren
In February, Senate Republicans rudely blocked Elizabeth Warren from participating in Attorney General Jeff Sessions's confirmation hearings, after she read a letter written by Coretta Scott King opposing Sessions's nomination 30 years prior. A letter written by Senate Majority Leader Mitch McConnell regarding the decision handily provided Warren—and savvy t-shirt distributors—with a slogan seemingly tailor made for tote bags, mugs, and an eventual presidential run, should Warren desire to do so.
"She was warned. She was given an explanation. Nevertheless, she persisted," McConnell said. Within 24 hours, those last three words were emblazoned on cell phone cases, onesies, sweatshirts and more. The rapid meme-ification of an unusually eloquent turn of phrase from McConnell, meant as a slight but quickly reclaimed as affirmation, effectively stripped the phrase of its meaning. Now the phrase is available as a cross stitch pattern, a cuff bracelet, a travel mug, and a watercolor print that looks like a very nice wedding invitation, commodified to become an empty referent.

---
The locus of outrage has moved beyond the loose, gestural empowerment of January when every woman and some men took to the streets clad in pink pussy hats talking about how protesting is the new brunch. The late 2017 feminist movement is no longer about a generalized focus on inequality, nor is it a rallying cry for the sake of speaking out loud. The recent wave of sexual misconduct, harassment, and abuse allegations against men in power, from government to entertainment and everything in between, will likely continue into 2018. Though it's not entirely clear what the results will be from this groundswell, the fact that it's happening at all still matters. Most notable about this particular movement of women sharing their stories, uniting against their aggressors, and seeing consequences happen in real time is that it hasn't yet been commodified into a sellable, marketable package.
So, what will resistance fashion look like in 2018? Maybe a little something like this shirt, from Amber del Moral for Women Artists, a publication that "highlights both contemporary and historical female artists of all mediums, movements and genres." The shirt reads "MEN HAVE MADE A LOT OF BAD ART." It's a statement that cuts to the quick of male ego, plainly stating a fact that is often conveniently ignored; it's to the point and it's sharp. It has a message—a real message—that's specific and bracing and very, very, true. Sometimes a t-shirt is just a t-shirt, but if you're going to make a point to wear your politics loud and proud, you might as well make sure you're being crystal fucking clear.
Update 12/27: Since publication, Rebecca Lee Funk from The Outrage sent Jezebel the following email:
The Outrage started before the 2016 election when a friend and I were searching the internet for feminist gear. We found a lot of male-owned and corporate businesses that we felt were trying to make a quick buck. I believe that when you create a business championing a social agenda you should be active participants in said agenda. And we definitely are. Our small business is 100% owned by women, is extremely diverse (over 50% of team members are women of color) and represents a lot of different communities. We donate as much money as we possibly can to progressive organizations like Planned Parenthood, ACLU, BLM, etc and are well on our way to $1M in total donations. All employees are paid a living wage (i.e. no minimum wage) and full-time employees are offered health care and other benefits. We only source from ethical and certified manufacturers, preferably domestic. We invest money in community spaces in the back of our stores (in DC and Philly) that people can use for free, anytime, for activist and feminist-related activities. We also find ourselves sitting at a unique entry point where we get a lot of young progressive females through our doors looking for a 'nasty women unite' shirt but aren't yet politically active. And so we try to be a catalyst. We have stations where you can learn how to contact your representative and have mailed over 2000 postcards on behalf of concerned citizens. We have a free library full of feminist and social activist texts. And in addition to funding organizations directly, we're also active in our community. We participate in demonstrations, pay for buses so more people can come to marches, and say yes to every request of support we possibly can.
When asked about how the donations for their merchandise work, Correa Funk wrote in an email to Jezebel:
We donate 100% of our profits- the bulk of those go to progressive organizations while a smaller chunk goes to fund our community spaces and special community projects (e.g. funding buses for the Women's March). The confusion on the website stems from certain campaigns/partnerships where we are raising money for a specific cause or charity. For example, our partnership with Heather Heyer Foundation exclusively benefits the foundation and doesn't contribute to the community spaces or other community projects. For those projects we highlight the fact that we are donating 100% of proceeds to a particular cause.