Still stumped on how to distill your awkward work relationships into inexpensive Secret Santa gifts? Never fear: our office gift guide will help you find the perfect present for the near-strangers you see more than your own family.
Quirky office supplies may be predictable gifts, but they can be effective if chosen carefully. For example, this giant skull stapler from Pylones seems a little steep at $50, but think of the hearty laugh you'll have after it's "kidnapped" and turns up in the fridge.



Of course, if you hate the person you drew for Secret Santa, go ahead and get the cheesiest, most useless desktop doo-dad you can find. If you're interested in annoying your coworker and their entire department, we suggest the Finger Drums Tabletop Electronic Drum Set. (We doubt this video's assertion that the clever use of Finger Drums can vanquish your arch-nemesis.)



This USB Fridge is great for your most severely anti-social officemates. According to the product description it's,
The only way to keep a drink cold while you're at your computer. Looks cool on any desktop. With this mini fridge at your side, you can keep your beverage chilled and stay at your computer longer.
G/O Media may get a commission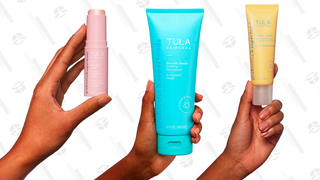 Because who wants to step away from the computer for five minutes? Walking 20 feet to the fridge in the break room provides unnecessary exercise, not to mention the possibility of having to exchange pleasantries with coworkers.


If you're looking to furnish the cubicle of a coworker you don't loathe, look no further than the Build-a-Zombie 2011 Paper Craft Calendar. It includes 12 paper zombie figures, allowing a beloved office friend to waste time cutting and gluing every single month! It's the kind of gift that says, "When the apocalypse comes, I hope the zombies eat you last."


Plants are safe but boring. Spice things up with a Venus flytrap. If the AC is too high in your office it may not snap close in a dramatic fashion, but even a slow-moving Venus flytrap will allow coworkers to ponder the nature of their own captivity.
Image via Todd Boland/Shutterstock.
For the guy who chats with you about Mad Men on Monday mornings, go with a bottle of whisky and a spare shirt to keep in his desk drawer. Better yet, give him one of the ostensibly-licensed Mad Men products from GoldLabel.com. This lovely Joan tote should do the trick. The shirt bearing Ms. Holloway's quote, "Your decolletage is distracting," is cute too, but it sends the wrong signal in the office.


Though it's totally unimaginative, the best gift for the coworker you barely know is a gift card. Cash on a card is all anyone really wants, and you won't unintentionally insult the resident teetotaler by giving her accessories for boozing. Try a gift certificate to an interesting lunch place nearby, or a Starbucks card in a regifted mug to convey the message, "Oh shit, Secret Santa was today?"


If you're expected to give everyone in the office a present, go for a group gift rather than 46 items culled from Target's dollar bin. Try to think of something everyone will enjoy, like an espresso machine, a new microwave, or print-outs of your asshole boss' embarrassing emails posted on the bathroom wall.