The holidays are about family and friends. Sharing the good times. Making new memories. And getting drunk enough to forget some. Forthwith, a variety of delicious, funny, and most of all useful booze and booze-related items for your gift-giving consideration.
Everyone has bottle opener keychains and bottle opener fridge magnets and bottle opener wall doohickeys. For the friend who's unafraid to wear her alcoholism on her sleeve, we present the bottle opener t-shirt. Bonus: Shirt has a robot on it.
BeerBot Bottle Opening Shirt, $15.99



For a great DIY gift — and one that's easily made in batches — why not give homemade infused vodkas? All you need is vodka, the fruit, peppers, or herbs that you want to infuse, and resealable glass jars. These glass flasks and bottles from the Container Store are more than elegant enough to give as presents. The method is simple: you wash the fruit/herbs/peppers, you put them in a jar, and you pour vodka over the top. It doesn't even have to be good vodka! (This also works with other light liquors, like sake and gin, although what kind of person infuses gin I don't know — because really. And if there are teetotalers on your list, it'll do for vinegars and olive oil, too.) Personally, drinking neat vodka reminds me a little too much of being 14, but I am pretty into it when it's been infused with tarragon. And I also find that horseradish vodka makes an excellent addition to a Bloody Mary.
Hermetic Glass Flasks, $4.49-$5.49



G/O Media may get a commission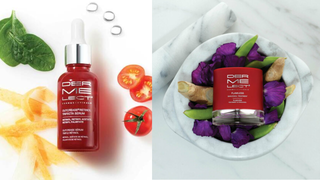 Save $19
Retinol Renewal Kit
Four words: Pink Flamingo Swizzle Sticks.
Happy Hour Kit, $9.99



For those times when the Sauvignon Blanc that was calling your name at the bottle store (I might suggest Giesen or a Cloudy Bay, though in reality, almost any Marlborough Sav will do) was just sitting there on the rack at room temp: a device that attaches to the neck of your wine bottle, and instantly chills its contents as it pours.
Ravi Instant Wine Chiller, $40



In other handsome ways to cool your drink, consider this Titanic-themed ice-cube tray. Little luxury ocean liners will amusingly crash into little ice cubes in your G&T's until you get very, very drunk. (Leo and Kate sold separately.)
Gin & Titonic Ice-Cube Tray, $12



Got a friend who's into science? (Or at least the sweet science of fermentation?) Got a bottle of fruit juice? With the addition of these pre-measured packets of yeast, you could ferment that juice into a delicious, carbonated alcoholic beverage. "This type of drink has been enjoyed in Europe for about a million years. The Germans call it Federweißer; the Austrians call it Sturm," notes the product description. If Europeans do it, that means it's classy!
DIY Juice To Alcohol Kit, $9.99



Even if you're a barely functional alcoholic slob, if you're a barely functional alcoholic slob with a Czech crystal drinking glass, then every time you pour one out you'll feel a little bit fancy. And Lord knows, sometimes feeling a little bit fancy is all that separates us from mere beasts. Earlier this year I bought four of these medium-sized goblets at a clearance sale and gave them to someone I love; I've since broken two, but that's the fault of me and my drunkenness, not the glasses. The glasses are lovely.
Juliska "Fiorella" Glassware, $52-$58



Artemisia absinthium, commonly known as wormwood, is indigenous to many places in Europe and North Africa, particularly the Jura mountains in Switzerland, where the supply is so abundant that illegal absinthe stills were still relatively common when I lived there in 2003. I will always remember the day I went to visit my Swiss boyfriend's elderly grandmother, a tremendously proper woman who lived alone in a little house near — well, I think it was near Neuchâtel. We ate the roast she had prepared for Sunday lunch, and afterwards, she went into the pantry and brought out a corked glass bottle with a hand-written label, a bowl of sugar cubes, and three flat silver spoons with tiny holes in their bowls. It was then I realized that this little old lady was hard core.
That preparation remains my favorite way to enjoy absinthe. But if someone on your holiday gift list is curious about other cocktails — traditional and modern — that involve the oft-ballyhooed green liquid, this book should set her straight.
Absinthe Cocktails: 50 Ways To Mix With The Green Fairy, $19.95



If old man drinks are more your thing — and let's face it, what self-respecting scotch drinker hasn't thrown up her hands at the thought of kids these days and their trendy, over-sweet cocktails the color of nuclear waste — then why not give the gift of Old Man Drinks? If you really want to let your recipient know you really care, include a fifth of something tasty.
Old Man Drinks, $14.95



Jonathan Franzen's The Corrections contains an early scene where the character Chip Lambert, a depressive alcoholic professor of "textual artifacts" who has recently been fired for having an affair with an entitled undergraduate, spends Christmas alone at a Dunkin Donuts. He then goes back to his faculty housing flat — he's being evicted — and decides to get drunk and open the Christmas presents that his parents and siblings have sent him. By kicking each package up the stairs.
When he punted the box from Gary it exploded in a cloud of white Styrofoam saucers. A bubble-wrapped bottle fell out and rolled down the stairs. It was a bottle of vintage California port. Chip carried it to his bed and worked out a rhythm whereby he swallowed one large mouthful of port for each gift that he succeeded in unwrapping. From his mother, who was under the impression that he still hung a stocking by his fireplace, he'd received a box marked Stocking Stuffers containing small individually wrapped items: a package of cough drops, a miniature second-grade school photo of himself in a tarnished brass frame, plastic bottles of shampoo and conditioner and hand lotion from a Hong Kong hotel where Enid and Alfred had stayed en route to China eleven years earlier, and two carved wooden elves with sentimentally exaggerated smiles and loops of silver string that penetrated their little craniums so they could be hung from a tree. For placement under this presumptive tree, Enid had sent a second box of larger gifts wrapped in Santa-faced red paper: an asparagus steamer, three pairs of white Jockey underwear, a jumbo candy cane, and two calico throw pillows. From Gary and his wife, in addition to the Port, Chip received a clever vacuum-pump system for preserving leftover wine from oxidation, as if leftover wine were a problem Chip had ever had.
I feel pretty much the same way Chip does about the alleged problem of leftover wine; i.e., that what's at issue is not so much spoiling as it is under-consumption. But if you — or someone you know — is a fucking lightweight (maybe she's pregnant and, you know, can't finish a whole bottle?) you could consider this.
Metrokane Houdini Wine Preserver, $12
But if you're shopping for a boozehound friend, you should definitely consider getting the quickest, easiest, and most heartily appreciated gift of all: Booze. Quality plonk and liquors aren't exactly cheap, but they are the kind of thing you can nip into a corner store for five minutes before the So-and-So's holiday party begins. Bonus: any polite recipient of such alcoholic largess will open your bottle immediately, especially if its a liquor, and offer you at least a taste.
In addition to the Marlborough wines I mentioned earlier — what, I'm parochial — I've included here a selection of the spiritous alcohols I myself have most enjoyed giving and receiving over the past year. If your friends' tastes run to scotches, whiskeys and bourbons, why not pick up a bottle of Balvenie, Laphroaig, or Michter's? I don't much like rum, but when some friends of mine turned up at mine with a bottle of Kraken, which is so spicy and complex it almost resembles cognac, I became a convert. (Especially when served in a glass with egg nog and a touch of nutmeg.) And gin preferences depend a lot on one's tolerance for juniper berries — some people like a drier gin, others go for the kind with the really whiffy bouquet — but if you fall on the "More pine needles, please" end of the spectrum, Hendricks is a nice choice. Or get a nice Montepulciano d'Abruzzo, or a bottle of Grey Goose, or a fucking sixpack of Shlenkerla Urbock or Duvel, or get some Four Loko (original recipe, duh) if that's how you roll. It's booze! That means it's pretty much awesome. Whatever you do, get enough of it so that everyone can get good and drunk. Because at the holidays, that's what counts.