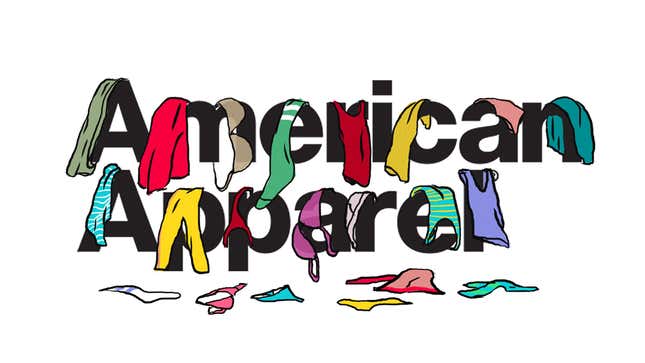 One by one, the remnants of "old" American Apparel have been stripped away. The company recently fired longtime creative directors Marsha Brady and Iris Alonzo—the latter of whom, according to our sources and as corroborated by an earlier report by Fashionista, was canned without warning, explanation, or severance—and now seems to have done away with the title "creative director" altogether. This past Friday, Joey Ng, who worked for the company for seven years and last served as its marketing director, was fired. The week before, photo curator Krista Martin, photographer Kyung Chung, and designer Merrily Lupo were let go.
Taylor Lautner Doesn't Even Remember Saying 'Bella! Where the Hell Have You Been Loca?'
The firings have come in such abundance and with such regularity that there's a ghoulish joke now among what's left of the old guard and its sympathizers. "Every Friday it seems like more and more people who belong to the old crew or have any association with Dov get fired," an insider said. "[W]e've started calling them #FiredFridays." Indeed, according to a report today from the New York Times, the company has begun laying off about 180 employees, mostly in the manufacturing division. All employees losing their jobs will be informed by Friday.
And Dov, of course, is Dov Charney, the founder and former CEO of American Apparel, a guy who's not much loved around these parts; we at Jezebel have previously referred to him as "chief troglodyte" and "a 14-year-old on growth hormones." Charney was ousted in January, and American Apparel, now helmed by CEO Paula Schneider and a Board of Directors controlled by the hedge fund Standard General, is in the midst of a thorough de-Doving that seems to have extended to employees with close ties to the founder. Chung, for instance, was formerly listed alongside Charney as a defendant in a lawsuit against American Apparel, and Lupo is Charney's ex-girlfriend.
Recent hires haven't exactly inspired confidence among American Apparel veterans, either. Those additions include Cynthia Erland, American Apparel's new, already battle-weary senior vice president of marketing, and Thoryn Stephens, the new chief digital officer, whom one source referred to as an "asswipe." Another said: "They really want people that are just going to agree with the hedge fund's agenda, even if what they are doing is ethically or strategically wrong."
Controversy and palace intrigue are as central to the American Apparel brand as metallic leggings. From the time a photo of the 1986 Space Shuttle Challenger disaster found its way onto their Tumblr account (accompanied by the tags #smoke and #clouds) to the time Charney was caught dancing with his dick out for a pair of female employees—not to mention, of course, the several sexual harassment suits aimed at its founder, or the time he masturbated in front of a reporter—the company is, as multiple wary American Apparel employees chose to phrase it, "fun to make fun of." That's certainly one way to put it.
Although employees lower in the company hierarchy have been railing against American Apparel for years, the team at HQ has for the most part remained fiercely loyal to the brand. Since Charney's dismissal in January, however, the nature (and locus) of complaints against American Apparel have shifted significantly—it's the folks left at HQ who are doing the ranting now. In interviews with Jezebel this month, multiple sources both currently and formerly with American Apparel spoke of a chaotic tug-of-war—driven by changes in creative direction, personnel, and at the factory—between the doggedly independent creative workforce hired by Charney and its new corporate leadership. The picture they painted was of a company graduating from a personality-driven form of dysfunction to a sleeker, more systematized form. The company that was fun to make fun of, they fear, is in danger of becoming too corporate to survive intact.
---
Earlier this month, three employees filed complaints with the National Labor Relations Board, citing worker intimidation and a ban on speaking to the press. (This past Monday, they appeared to have scaled back on the press policy, as reported by BuzzFeed.) Additionally, a group of Charney supporters within the company sent a series of mass emails under the name #ProDov, criticizing both the removal of Charney and the arrival of Standard General. (One of the anonymous emails took issue with "being taken over by corporate Wall Street guys who don't care about the company or the brand or the image or its employees.") "The place is imploding," Keith Fink, the lawyer for American Apparel employees on two of the complaints, told BuzzFeed earlier this month.
Over the past few weeks, new grievances have emerged. A string of employees have reached out to multiple publications (including this website, the New York Post, and Animal New York) with concerns about the new creative direction of the company. Their tips included a screenshot of an email sent by PhotoGenics Media for an American Apparel casting call that read: "The company is going through a rebranding image so will be shooting models moving forward. Real models. Not Instagram hoes or thots."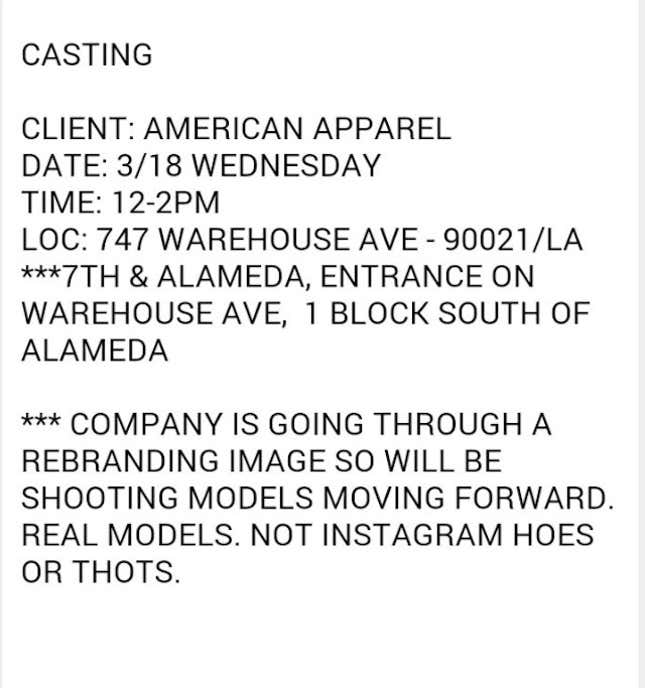 PhotoGenics Agency Director Phira Luon, who sent the email, assumed full responsibility when contacted by Animal New York: "The comment made at the end was made in jest with models whom I have a personal relationship with and did not reflect the views, or directives by the client."
Cynthia Erland, the executive whose decision it was to use the agency, has done a round of interviews denying any company involvement with the casting email. On the phone with Jezebel last week, Erland was vehement, saying she found the charges "completely offensive." ("I had nothing to do with that email, and it in no way reflects my belief or the belief of the company.") She also said that American Apparel is terminating their relationship with PhotoGenics.
According to several sources, Erland, who started at American Apparel about three weeks ago, has been interested in hiring professional models. Professional models cost quite a bit more than AA's (substandard) standard, which a source told Jezebel hovers at around $50 an hour; some consider it a financially reckless move at a particularly vulnerable time for the seemingly always-vulnerable company. And since a core tenet of the brand—controversial as it's been over the years—is the "real," un-photoshopped quality of the women advertising its wares (they're usually employees, friends of employees, or scouted on social media; generally, they are under 5-foot-7, wear very little makeup and are often curvier than your average e-commerce model), this has ignited a wave of backlash in the media and within the company itself.
"Cynthia is destroying our brand," one employee pronounced bluntly, citing the fact that she and many other employees heard Erland describe current American Apparel models as "too short and round," and that Erland is interested in hiring models who are "Eastern-European looking." Erland is also reportedly one of several executives behind the mandate, first noticed two weeks ago, to quietly photoshop out all nipples and pubic hair from the website. (Anyone who's followed American Apparel's branding strategy over the years knows just how dramatic this particular shift is.)
According to this source, they've also been removing any ads featuring excessive nudity or young-looking models; she said that the staff was told these changes were brought on by "legal issues." Our source went on to explain:
If we're selling a lace bra or we're selling a mesh bodysuit, the customer should know that their nipples are going to show, that we don't have padding over it. So it's just not accurate. It's a little creepy and weird, and I don't want to work for a company—I wouldn't work for a company—that photoshops a normal, healthy girl.
A second source from within the company, who also wished to remain anonymous, echoed these sentiments. "I don't want to work for a company that doesn't reflect our customer, and doesn't respect the customer," the insider told me. "You don't have to reproduce what everyone else is doing to be profitable."
In our phone conversation, Erland denied most of these claims. I'd used the word "unrest" to characterize the current state of the company. "This idea of 'unrest' really doesn't match with reality," Erland said, adding that most of her subordinates had professed excitement about the new leadership. She said that the website photoshops stemmed from a joint decision made by various executives at the company, explaining that "the focus should be on selling the product and not body parts."
Regarding the model casting, Erland said: "We had one day of model casting, and then we had one day open to the public. In no way are we trying to turn American Apparel's branding and vision into a model-focused brand." She added that the three models selected at the casting were were "all very diverse," and that she had never used the terms "short and round" or "Eastern European."
At the beginning of my conversation with her, she noted that "people really want to see this company succeed and move forward"—a statement which is undeniably true. Everyone I've spoken to at the company is remarkably devoted to the brand, and especially its sweatshop-free, made-in-the-USA business model. "We can't let this die," one such person said to me, with urgency. "It's too important."
---
In January, Paula Schneider was named the first female CEO of American Apparel, which employs nearly 10,000 people and operates almost 250 stores. It has also hemorrhaged nearly $340 million in the past five years and has not posted a profit since 2009. (Dov Charney was fired by the board in June—he officially left the company in January; more on that here—in light of a $10.4 million internal investigation that claimed he misused company funds and violated the company's sexual misconduct policy. Further, the SEC is now involved in an investigation of the investigation, which appears to have cost more money than the cash-strapped company could have afforded.)
Schneider, 56, is known for corporate restructuring and financial turnarounds at retailers including BCBG Max Azria and Laundry by Shelli Segal. She told the Los Angeles Times last week that ads will continue to incorporate "social issues" such as bullying and gay rights, but will not be "sexual for sexual's sake"—a significant shift for a company known for reveling in the hazy art of gratuitous titillation. The L.A. Times reports that Schneider has until Sunday to present her operational plan to the board.
According to sources within the company, Schneider had a warm reception at first; this began to shift when it became clear that her management style would be vastly different from that of Charney, who sources said was known for his open-door policy and made his cell phone number public to all employees, even at retail locations. A source at the company told me: "We thought she was going to come in, roll up her sleeves, and get in there with us. But she literally isolated herself, building a new office with two receptionists outside, and gave the most critical people in her business 30 minutes of her time per week."
Schneider does not have a seat on the board. Although the former CEO did, he was also the majority shareholder; it's not altogether unusual for a CEO not to have a seat on the board of a publicly traded company. However, Standard General has effectively gained control of the company, replacing five of the nine board members with its own appointees. (Charney has stated that he was "robbed" and "betrayed" by the hedge fund in the course of his ousting.) In addition, almost no one currently serving on the board has direct experience with apparel retailing or apparel manufacturing. (Lyndon Lea, who is a private equity investor and has owned several apparel/footwear companies including AllSaints and Jimmy Choo, comes closest to matching that description.)
The power shift has some employees and shareholders worried. One source explained of Standard General: "If the company makes money, they make money, and if the company loses money, they make money. They're on the roulette wheel betting a little bit on black, a little bit on red, a little bit on 0, a little bit on 00, and they just wait to see what happens, because either way they're going to make money—at the expense of the employees and potentially the shareholders." (In hedge fund takeovers, measures can be taken to earn money even when the underlying company loses money, but those are complicated and risky.)
And the internal pushback against American Apparel's new direction has spread beyond the official boundaries of the company. A former affiliate has sent out the following private message on Instagram, obtained by Jezebel, to a large group of American Apparel models: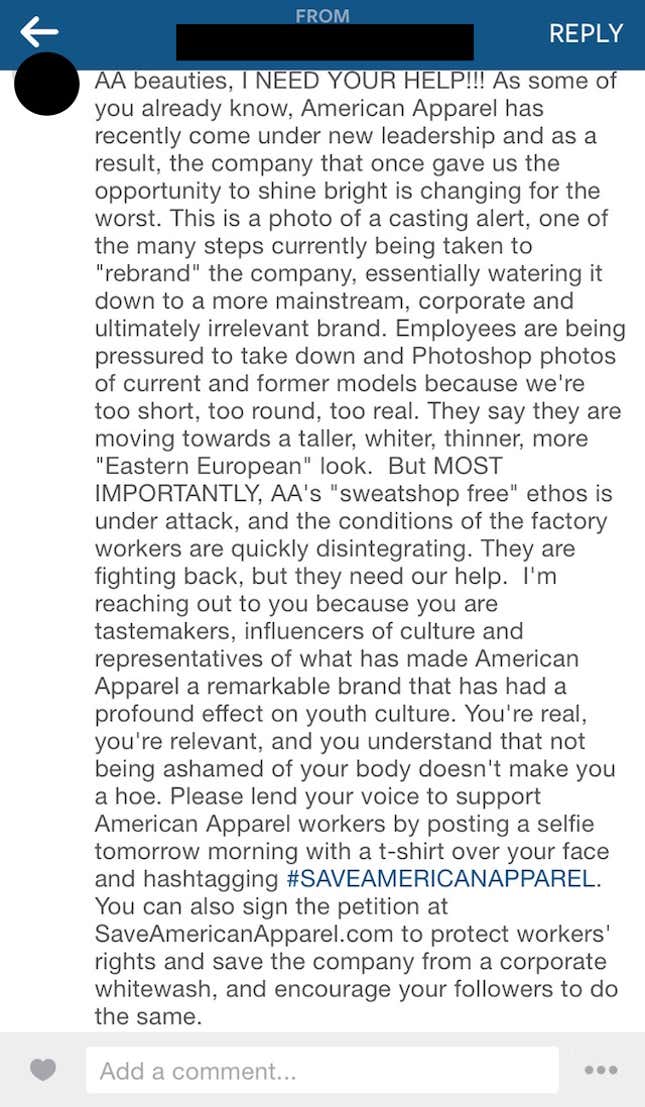 Many have spoken out since then, including Jessie Andrews, who has modeled for the brand with regularity:
Below is a short video posted to Instagram which included the not-particularly-active hashtag #SAVEAMERICANAPPAREL. The video, recorded March 21 in the Echo Park neighborhood of Los Angeles, shows the most recent in a series of rallies organized with help from the art collective Alterazioni Video in support of garment workers at the American Apparel factory, who have seen a significant reduction in hours since January. "The workers are covering their faces to protect their identities, but also as a symbol of how they feel under this new regime," explained one of our sources.
The shirt-over-the-head visual might scan as a bit stunt-y, but the reasons behind their si se puedes are significant: Factory workers are currently not being given enough hours to constitute a living wage. This is listed as one of 13 issues cited in a letter to the American Apparel Board of Directors sent on March 18 by Hermandad Mexicana, an advocacy organization for Spanish-speaking immigrants on behalf of AA factory workers:
The "sweatshop free" business model is in jeopardy of being eliminated given the current rate of deterioration of wages, hours, and working conditions experienced by the American Apparel workforce. Garment employees are working as little as 2 or 3 days per week, and many are experiencing rotating full week lay-offs for the first time in their tenure with American Apparel.
In an interview with the L.A. Times earlier this month, Schneider attributed this drop in hours to the post-holiday season; in a later interview with the same publication, she said that fewer styles will be offered in the fall season. But a post-holiday drop-off isn't how the company works, a source informed Jezebel: "By February you should be ramping up your production where you're running overtime." Although there are several seasonal items marked "new" currently on American Apparel's website, multiple sources have informed Jezebel that the spring and summer lines planned last year have not been put into production.
Schneider, according to a recent report, has claimed that American Apparel remains committed to preserving jobs and paying fair wages, asserting in the same interview—which took place after several employees filed complaints for reportedly being intimidated and threatened by security guards while attending a Workers United to Save American Apparel coalition meeting—that she supports its employees' rights to express their views and is "committed to engaging in an active dialogue with them." (Read more about the recent complaints and company response here.)
Nativo Lopez, a senior advisor with Hermandad Mexicana, confirmed over the phone that the approximately 700 American Apparel employees involved in the coalition are taking the preliminary steps to unionize. American Apparel factory workers are accustomed to 40-hour work weeks, a pay rate of about $12 an hour, an annual bonus, on-site health care and massages, subsidized lunches, and affordable health insurance. These benefits are rare in the garment industry, and very much at risk.
Said Lopez: "Workers are experiencing anywhere from 30-40 percent reduction in their work hours, as well as rotating layoffs—but they're not being furloughed long enough for them to be able to apply for unemployment insurance benefits, so the company can avoid a financial liability and at the same time keep them on the leash. They weren't paid their annual bonus in January, and were not given notice or explanation until much later." As of last week, according to Lopez, the bonuses had yet to make their way into the hands of workers.
But here's the thing: Hermandad Mexicana is not a union, and while American Apparel could technically recognize any worker-established entity created for the purpose of negotiating collective bargaining agreements or fielding complaints, a massive corporation like this is unlikely to cooperatively dole out speedy recognition to a community nonprofit, let alone accede to their demands. The coalition has been able to get a fair amount of press, but while no additional incidents of worker intimidation have been reported since the company responded to allegations, other worrisome changes appear to be rolling on.
Several sources informed Jezebel that approximately 20 garment workers were laid off last week, a charge an American Apparel spokesperson flatly denied to me over the phone yesterday morning. Today, however, we learned that about 180 garment workers will be laid off this week. "This is a very sad day," Schneider told the Times. Sources also informed Jezebel that other garment workers were served with an ultimatum: to either relocate to the La Mirada plant 15 miles away from the factory, which many cannot transport themselves to, or face termination. The company denied this as well, saying that while they are offering some employees a transfer to La Mirada, "These offers to transfer, in the midst of furloughs, are an opportunity for steady work, and the employees are free to choose whether or not to accept a transfer."
Over a decade ago, American Apparel refused a bid by UNITE HERE, a powerful garment and textile worker union spanning the U.S. and Canada with over 200,000 dues-paying members; the interaction was tense and riddled with controversy. In 2004, Charney told the Los Angeles Business Journal:
"The concept of a union is a check against greed on the part of the employer. If I really wanted to be motivated by greed alone and pay the lowest possible wage, I wouldn't be working in this factory. To say, 'Let's appoint a union to represent the workers even further' may put into disequilibrium the delicate balance that I've created between all the parties."
But Charney is no longer in charge, and if American Apparel's workers had unionized then, when conditions were relatively good, they might have had more of a fighting chance today.
---
Dov Charney went on ABC News' 20/20 program on Friday and for the first time publicly discussed his ouster and his plans for retaking the company. "I've had a minute being on the outside to re-strategize how I want to take the company, you know, control of the company again, and I intend to," he said. "I had been working 365 for 10 years solid, OK? Built a massive brand that captured the imagination of the world. Then to treat me like that, to throw me on the street... shame on them." He is seeking $35 million in damages from the company.
One topic of conversation was the series of accusations of sexual harassment aimed at Charney, a reason behind his firing in December. "I've never engaged in any activities that could be characterized as sexual harassment," he said. "I want everybody to know I'm not 'the Sleaze King.' The 'Sleaze King' is another guy." Regarding the company's history of provocative advertising, he said: "I'm sure we pushed the envelope too far a couple of times. That's why you make the next ad right away."
The company pointed ABC News toward an American Apparel employee who reported being happy to see Charney go. "When you work at American Apparel closely with Dov, you're pretty much scared all the time," she said. "He will yell at you, call you names, humiliate you until you feel down, broken." Schneider told ABC News that the sentiment echoed other reports made with human resources.
The sentiment certainly isn't universal. All of the sources Jezebel spoke to for this story said they would like to see Dov Charney reinstated at American Apparel, in some form or another. To an outsider, it seems a bit rich to find members of Charney's inner circle suddenly exercised by the specter of employee mistreatment. Were things really so much better under Charney, the serial masturbator, the guy who allegedly once rubbed dirt in an employee's face?
Perhaps they were. American Apparel was always a shit show, but it's now starting to show signs of becoming a conventional, corporate shit show that longtime employees fear is losing every remaining shred of purpose and creative integrity it once had. We're not exactly agnostic on the question of whether the brand Cynthia Erland is allegedly destroying is one worth preserving. But even Dov Charney's American Apparel deserves a better fate than to go down in a fit of corporate streamlining, which serves no one's interest but that of the hedge funders pulling the strings.
"In a way, at times it was easier without Dov here because we could just pump out ideas and get stuff done, minus the controversy that he sometimes caused," a source told. "But at the same time, we're missing that push and motivation, that passion for it. No one stays past 5 o'clock anymore."
Know more about what the hell is going on at American Apparel? Email us, or contact us via SecureDrop.
Illustration by Jim Cooke.

---
Contact the author at ellie@jezebel.com.