Blac Chyna and Rob Kardashian are going to have a baby. The couple is also engaged, which means that Amber Rose will probably be the maid of honor at Kim Kardashian's brother's wedding and godmother to Kim Kardashian's niece or nephew.

What a world.
Basically, this all means that the Kardashian/Jenner family tree is about to look like the tangled pile of wires behind your TV. It will be a nice companion to the ridiculous web of relationships and cross-hookups that was born when Kylie and Tyga began dating.
Take my hand, let's try to make sense of this shit.
To make things more interesting, let's assume Kylie and Tyga will either stay together in some capacity for the conceivable future or get married at some point. We will also assume that Blac Chyna and Rob will actually get married. This helps to make everything a bit easier to understand and, let's be real, these people are messy as hell—there's a good chance this will all come to fruition.
Now, let's remember a few things just to contextualize the absurdity: Blac Chyna and Tyga were engaged and have a son together, King Cairo. Blac Chyna used to be best friend with Kylie's sister, Kim Kardashian, until Kylie began dating Tyga. Blac Chyna is best friends with Amber Rose, who is the ex-girlfriend of Kanye West, who is now married to Kim.
So, here is what will happen when the future Angela Kardashian gives birth to the first heir to the Kardashian name.
G/O Media may get a commission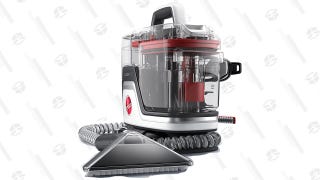 Save $10
Hoover CleanSlate Plus Carpet & Upholstery Cleaner
Blac Chyna and Kylie will be sisters-in-law (and best friends, apparently)
Blac Chyna and Tyga will be brother- and sister-in-law
The new baby and King Cairo will be half siblings and first cousins
Rob and King Cairo will be stepchild and stepfather and uncle and nephew
Kylie will be the aunt to the half-sibling (the new baby) of her stepson King Cairo
Kylie will be both stepmother and aunt to King Cairo
Tyga will be the father of his brother-in-law's stepson
Tyga will be the uncle to his son's half sibling
Only seven months until we see how Kris Jenner spins this one on the family holiday card!