The allegations that Harvey Weinstein harassed and assaulted a growing list of women haven't just had repercussions for him, his business, and, of course, his victims. Weinstein's history as a major Democratic donor means that recipients of those funds have been forced to make a decision about what to do: keep the money, now unavoidably from a serial predator, or donate it elsewhere, a decision numerous senators have made.

On this week's Big Time Dicks, Kelly Stout, Ellie Shechet, and I discuss Ellie's recent piece, "A Brief History of Harvey Weinstein's Relationship With the Democratic Party," which outlines how Weinstein has allocated over $1 million of political donations over the past several decades; he's personally contributed to politicians including Kirsten Gilibrand, Al Franken, Cory Booker, Chuck Schumer, Elizabeth Warren, and Patrick Leahy.
We also discuss the ethical quagmire in which Democrats, and ourselves, are left. Are we really supposed to believe that none of these recipients knew about Weinstein's reputation for abuse? Is it acceptable for them to turn a blind eye in the service of Greater Political Good? And what are we supposed to think of politicians we ostensibly admire for their moral fortitude?

"This is something that obviously the Republican party is just really enjoying, because it's been the first time in awhile that they've been able to really dig into something shitty happening on the other side, while their president is sort of dancing with nuclear war," Ellie says.
"This poses a lot of complicated questions; it's hard to wrap up in a neat bow. It poses questions for Democrats, for feminists, and for people who are accepting of this donor system and this political system that we live in today."
(Just a warning—the episode plays secretly recorded audio obtained by the New Yorker of Weinstein pressuring Ambra Battilana Gutierrez from 19:00 to 20:19.)
G/O Media may get a commission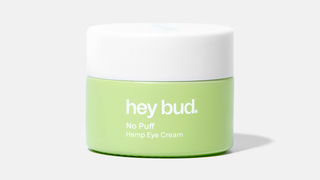 15% off
Hey Bud - No Puff Hemp Eye Cream
---
Big Time Dicks can be found on Apple Podcasts, Stitcher, Spotify, Google Play, iHeart Radio, and on the NPR One app.
Want to tell us about a Big Time Dick in your life? Send us a voice note to BigTimeDicks@jezebel.com. Also, please rate and subscribe to the podcast, and recommend it to your friends, to make sure others are able to get their weekly dose of dick. If you need an antidote to this dark (but explained in a fun, relatable way) subject matter, check out our sister pop culture podcast DirtCast.