Dane Cook hosted a little Q and A session on his Instagram story Monday night, and got a chance to open up about his relationship with Kelsi Taylor, a 19-year-old singer who is 26 years younger than him.
A follower asked Cook where he and Kelsi met. Cook's reply:
We met at a gamenight [sic] I host at my place. We were friends for a while & soon after fell in like with each [sic] and then upgraded to love.
I have some questions. Namely, why is 46-year-old Dane Cook cool with having a teenager at his house? The first photo of the two on social media is from spring of last year, when Taylor was 18 years old.
G/O Media may get a commission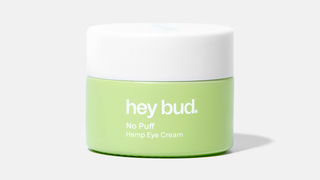 15% off
Hey Bud - No Puff Hemp Eye Cream
Another follower asked Cook, "What advice do you have for those in age gap relationships?"
Cook's response: "The only thing you have to do is plan that your deaths will be somewhat far apart." Uh, okay! Comedy! I guess!
Taylor was born in 1998, too young to have appreciated Cook at his prime. But I was a teenager in the mid aughts, when Dane Cook was at his peak. By 2006 he was a comedy god to seemingly every guy between the ages of 12 and 25, and my classmates eagerly listened to his standup routines on their iPods. Despite his success, he hasn't quite maintained his super stardom. Other comedians and comedians turned actors have come and gone, leaving Cook as a bit of an a 2000s relic, an afterthought for the average person.
I grew up in Los Angeles and went to school with plenty of rich kids who made the city their playground. The idea of an 18-year-old showing up at a 40-something-year-old celebrity's house for a party isn't that shocking to me. Since Taylor is a budding singer in an industry full of older people, I'm even less surprised.
Still, the details—and timeline—raise more questions than they answer. Considering that the two have been dating since Taylor was at least 18 years old, I'm also curious as to how old Taylor was when they started being "friends for a while."
They seem to love the snot out of each other and Cook says Taylor's family approves. Congrats. But that doesn't mean it's not at least a little creepy. Age is more than a number, and given Cook's long history of gross commentary on women? Woof.