Another Olympic figure skating competition has ended and the main controversy seems to be trying to figure out whether the Russians rigged the competition in favor of 17-year-old Adelina Sotnikova. (Good luck proving that with anonymous score sheets.) But lost in all the commotion is the fact that the U.S. women's team will leave the Games empty-handed. Again.
The last podium finish for the American women in world or Olympic competition was in 2006 when Kimmie Meissener won the world title. Since that competition, the U.S. women have the distinction of being the "best of the rest," stuck solidly in the 4th-7th place grouping, just off of the podium.
This has led to no shortage of anxiety amongst the powers that be (and sponsors) and the women's side of the sport. It also probably influenced how this year's Olympic team was selected; the committee bypassed third-place finisher Mirai Nagasu for former national champion Ashley Wagner, who they believed had a better chance at placing higher in Sochi.
G/O Media may get a commission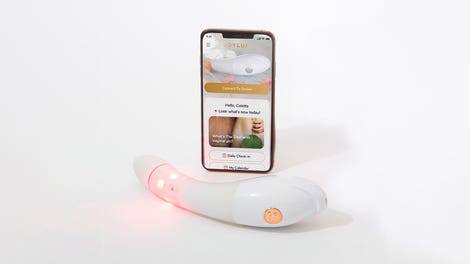 $50 Off
Joylux vFit Gold Device
But Wagner placed 7th yesterday after the ladies free skate. Polina Edmunds, the 15-year-old newcomer was 9th, and Gracie Gold, the 2014 U.S. national champion ended up in fourth place, just off of the podium. Gold had been the Americans' best chance to win a medal of any color in Sochi. And so the drought continues.
Why has the U.S., which has won more ladies gold medals than any other country, struggled in the last decade to produce (as though figure skaters are an economic good) world and Olympic medalists?
Jennifer Kirk, a 2000 junior world champion, three-time world championship team member, and the co-founder of The Skating Lesson, one of the most popular figure skating analysis sites, recalled competing during the Michelle Kwan-Sasha Cohen era, when the U.S. consistently found itself in the medal hunt. "I think that motivated someone like myself to push myself to be better because I always knew that there were three or four girls in the mix that were going to do really well internationally and were dominating the sport," she recalled. Back in those days, when you competed at the U.S. national championships, you weren't just competing against the best skaters in the country; you were competing against the best skaters in the world.
Kwan forced Tara Lipinski to up her game and vice versa. And the same goes for Kwan and Sasha Cohen. They traded rankings—domestic and international—for years when they competed. "Since Michelle and Sasha left, there really hasn't been a crop of top women," Kirk observed. Until the emergence of Gold, Wagner had been alone at the top of U.S. women's skating and wasn't particularly challenged domestically. "I think some of [the problem] has been that we haven't had more than one leading lady in the U.S. You need that group behind you to push you to be better," she said.
You long-term strategy for success, however, cannot be built around finding another Kwan. Rather, her retirement – along with Cohen's — revealed a thinning bench on the ladies side. And as ballyhooed as Wagner has been in the last couple of years, she climbed to the top of a much less steep domestic mountain to call herself U.S.A's #1 skater, at least until very recently.
"The standards for winning U.S. nationals became much easier. If you did a relatively clean program, you were going to win," noted Dave Lease, the co-founder of The Skating Lesson.
"As the superstar ladies were exiting the world stage, [Wagner] was coming in. And there was really no one [else] who was up to par," said skating blogger Miki Yamashita in a 2013 episode the Lesson.
So the question is—where did American depth go? Why has the domestic skating scene become so much less competitive than it once had been?
Kirk attributes part of the trouble to the new scoring system. "It's impossible to gain momentum in this system," she said. Kirk mostly competed under the old, 6.0 system and seems to prefer it to the current way of evaluating, which entails assigning numeric value to every move on the ice and then tallying up the points. "In the past, you knew you were able to relax at certain parts of your performance and perform and have a connection with the audience. Under this current system, my mind was constantly moving, thinking—how am I going to get points here? Did I hold that spin long enough? Did I hold that spiral long enough?" she said.
Think of Nancy Kerrigan's famed spiral sequence where she holds her leg behind her and glides around the rink with her hand outstretched. Crowds loved it but you don't see stuff like that anymore. In a recent interview, Frank Carroll, the legendary U.S. figure skating coach, jokingly asked, "What is a good spinner? Somebody who puts their blade in their mouth?"
And then there's the physical health of the athletes.
"A whole generation was wiped out by her hip injuries," Lease observed, referring to the likes of Meissner, former U.S. national champoin Alissa Czisny and others.
Kirk feels that the International Judging System (IJS), which was introduced after the cheating scandal of 2002, is a contributing factor. "These women are trying all of the contortionist moves and spins. Your body can't withstand all of that rigor of movement that we didn't have when we were skating under the old system," she said. And if skaters are more frequently injured, then they are out of competition before the audience gets a chance to know their stories, which drives interest in the sport and sells tickets.
"We haven't had anyone who has been successful internationally for more than maybe a blip on the radar. They can't sustain for even a modicum of what Michelle was able to achieve," Kirk noted.
If you go abroad, there are exceptions to this rule. Skaters like South Korea's Yuna Kim, the 2010 Olympic champion, just won the silver in her second Games at the age of 23. But Kim took nearly two seasons off and chose her competitions carefully, which helped her preserve her body. Japan's Mao Asada, Kim's longtime rival, has also managed to stick around for more than one cycle, but she isn't just any old skater—she is one of the most popular athletes in her country and was intent on winning Olympic gold in Sochi after failing to defeat her rival in Vancouver.
Back on American soil, the fortunes—both medal and financial—of U.S. figure skating has tumbled, in part, because they were inflated for a long time by the Tonya Harding-Nancy Kerrigan scandal. As many have already noted, this saga drove unprecedented interest to the sport and ramped up TV ratings. Skaters earned huge checks for single performances and competitions. None of this was sustainable over the long term.
But the scandal and subsequent attention heaped on figure skating introduced audiences to other stars. Kwan was the alternate who would've skated had criminal charges been filed against Harding before the Olympics. Ekaterina Gordeeva and Sergei Grinkov, Russian skaters who lived and skated in the U.S. during their professional careers, became as famous for their fairytale romance as their success on the ice – their fame became a draw on domestic tours, and, in turn, fed more money into the American skating system. 1992 Olympic champion Kristi Yamaguchi, who was quite a gifted show and professional skater, was able to ride the wave to significant earnings. And other crowd pleasers such as 1988 Olympic champion Brian Boitano, Scott Hamilton (whose own battle with cancer and return to professional ice fueled additional interest).
The money, of course, matters, and it isn't just made by retired skaters in the twilights of their career. During Kwan's amateur years, she participated in a variety of ice shows, which paid her very handsomely. She also earned enormous amounts of prize money for competitions. She had begun amassing wealth even before she competed at the Olympics. Not winning the gold medal in 1998 and again in 2002 did not seem to sour her economic prospects.
But it wasn't just Kwan who did well. Other, lower ranked skaters were also able to make some money. The ice shows didn't just showcase the household names; shows and professional competitions created financial incentives for some of the lower ranked skaters to stay in the sport for longer, keeping the domestic field more competitive.
The money might've enabled some skaters to pay for training related costs. Figure skating is an extremely expensive sport—from the boots, to ice time, private lessons, choreography, and glittery costumes—so unless your family is independently wealthy, it is hard to justify staying in a sport once your results start to slide and injuries take over. Stars on Ice last put on a full tour in 2011.
Phillip Hersh, in chronicling a financial dispute that took place between 2010 Olympic champion Evan Lysacek and USFS, noted the dwindling fortunes of American skaters. He wrote, "The business has changed so much that it would be hard for the U.S. federation to pay Lysacek anything near what it did Michelle Kwan, Tara Lipinski, Sarah Hughes, Kimmie Meissner, Sasha Cohen, Timothy Goebel and Michael Weiss from 1997 through 2005."
The same article points out that while there were several skaters making over $100,000 in prize money during those years, no one made over $50,000 in 2010, according to IRS filings. The reason for the drop in prize money and appearance fees earned by U.S. skaters? The loss of television contracts.
Also, if you are not bringing in the winnings you once were it becomes more difficult to compete at the highest level. You may not be able to afford a program choreographed by Lori Nichol, one of the best in the business. You might have to go with someone a notch lower and that, too, can affect your results and earnings.
The lack of financial incentive might've have thinned the domestic field. And a less-than-robust field doesn't yield the competitiveness that creates top-notch figure skaters that bring in the audiences and the money. And so the cycle goes.
But it's far too simplistic to look for all of the answers in the American skating scene. Some of the downturn is due to the changing nature of the international landscape; the rest of the world has simply gotten better over the last decade. Though Japan has a history of strong ladies skaters, it has never had so many top notch ones at the same time. Then there's Kim, an otherworldly talent who emerged from South Korea, a country without a strong figure skating tradition. Russia, long a force in ice dancing and pairs, has more recently been cultivating a bevy of teenage jumpers and spinners.
But all hope for an American resurgence is not lost. The Americans placed all three of its skaters in the top 10 at these Games—no small feat. Also, Kim hasn't turned South Korea into a figure skating powerhouse, and she just announced her retirement from amateur competition. Kim's longtime rival Mao is also likely to retire after Sochi, as are a couple of the other dominant Japanese figure skaters. And probably the same will be true of the 2012 world champion and Sochi bronze medalist Carolina Kostner, who at 27 is a veteran of three Olympic Games. There will soon be room at the top for someone like Gold to step into. If she elects to stick around for the next cycle, she should be able to build some momentum for U.S. figure skating.
And we can already start seeing some of the missing depth being rebuilt in the young Edmunds. She skated cleanly, for the most part, at the Olympics and is starting to build her international reputation. She is a young, talented, ambitious skater. (Or at least her mother is ambitious if this New York Times profile from 2010 is any indication.) She might be the right skater to push Gold in the coming years or even become a star in her own right if she develops artistically.
Even if all of our best hopes for Gold are realized, it is unlikely that she'll be able to return U.S. ladies figure skating to its dominant past. If she plays her cards right, however, she might be able to start reversing the trend. Because that last name really is unbeatable—at least from a marketing standpoint.
Image via Getty.