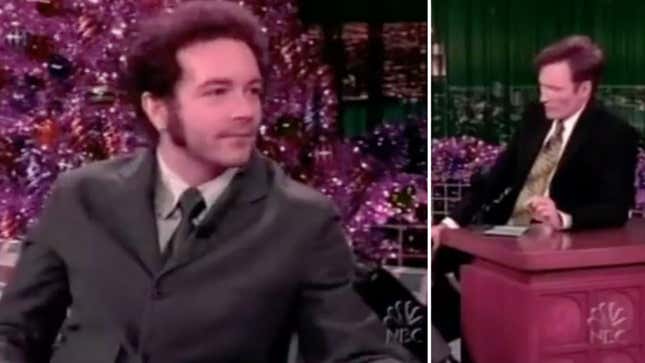 Danny Masterson was sentenced to 30 years in prison on Thursday for multiple rapes he committed between 2000 and 2003 when he was at the height of his fame while starring on That '70s Show. The Church of Scientology helped keep the allegations under wraps for years—but a new clip that went viral on Thursday makes one wonder how secret they actually were. While doing promo for the sitcom in 2004, Masterson appeared on The Tonight Show, where then-host Conan O'Brien (seemingly) jokingly told him, "I've heard about you, and you'll be caught soon."

The creepily prescient line came at the end of an exchange unearthed by Twitter user WuTangKids. In it, Masterson is doing a bit—which he clearly means as a joke but comes across as exceedingly creepy, even by 2004 standards—about a friend's impression of him that goes, "'Hi, my name's Danny Masterson, would you like to touch my balls?'"
O'Brien, to his immense credit, ignores the "impression" and immediately says, "Why are you asking people to do that? That's the more important question."
"I mean, you got 'em," Masterson responds, with an expression that I presume was intended to convey "deadpan humor," but in retrospect just reads like the all-too-familiar face of a guy using jokes to minimize his horrific behavior (or to attempt to gaslight you into thinking it's actually OK and not that bad).
Of course, there's a chance that O'Brien wasn't prescient at all—and that he'd already heard about Masterson's behavior, or even his assaults. He was convicted in the spring of raping two women, and in 2017, at least two others accused him of the same crime. He and O'Brien ran in adjacent comedy circles, and it's not unreasonable to think that the rumor mill was already churning.
Interestingly, O'Brien had his own run-in with Scientology—the chief Masterson defender—in recent years. Leah Remini, a former member and outspoken critic of Scientology, went on his TBS show to promote her documentary series, Leah Remini: Scientology and the Aftermath, in 2017. Shortly before her appearance, O'Brien said he received a statement from the organization discrediting Remini—the first time such a thing had happened to him in nearly a quarter-century in the TV-hosting business.
And if O'Brien did have intel that Masterson was more of a "touch my balls" guy and less like his lovable TV character, it wouldn't be the first time a comedian attempted to out a colleague for being a sex pest years before they were legally held accountable. During a set in 2014, Hannibal Burress called out Bill Cosby over his "smuggest old black man public person," saying, "You raped women, Bill Cosby. So, brings you down a couple notches. 'I don't curse on stage.' Well, yeah, you're a rapist, so..." Similarly, 30 Rock made a joke about Cosby during a season 3 episode in 2009—which co-showrunner, Robert Carlock, later confirmed was "not an accident."
Meanwhile, even after hearing about Masterson's awful crimes, his friends Mila Kunis and Ashton Kutcher submitted letters on his behalf, asking the judge for a lenient sentence.
It really does make you wonder how many other rich and famous people are walking around knowing awful shit about their friends and colleagues and are too chicken to go public—or simply don't care.