I think we've examined Mariah Carey's New Year's Eve performance from every possible angle and are all ready to move past it, but that certainly hasn't stopped Ryan Seacrest who would very much like to tell you what he thinks.

The shiny-toothed host "finally" offered his tepid take during Thursday's episode of On Air With Ryan Seacrest and let me tell you, it's a lot of words strung together that don't really mean much.
Ready for it? It's a doozy.
"It is difficult to perform in Times Square. I mean, she had done it before because she was the first musical guest that we had had live when I started doing the show a decade ago," he said. "So she had seen it; she knows what Times Square is about. It's complicated."

He continued, "I don't know what you realize on TV or you see, but imagine: Every single TV outlet in the world is there. There's all kinds of technical things going on."
I can't tell if he's subtly trying to blame Mariah or trying to avoid blaming anyone at all or just saying words about what happened because he felt obligated to do so without offending anyone. This is a "response" in that it's an acknowledgement of the thing that happened, but like an almost-room temperature vanilla pudding-cup that you have for dessert because the bodega didn't have Double Stuff Oreos, it is highly unsatisfying and bland.
More goss! Hotter dish! Give it to me!
Or don't. That's fine too.
[E! News]
---
It turns out Kim Kardashian West/Kim Kardashian/#Kim isn't the first celebrity to undergo a harrowing experience at the hands of armed robbers in Paris. Naomi Campbell recounted her own experience in 2012 with Wendy Williams today and the whole thing sounds rather unpleasant and slightly terrifying.

En route to her dear friend Azzedine Alaïa's house in Paris, Campbell describes a nightmarish scenario in which she got into a car, realized something was amiss and held onto her shit for dear life lest the men who threatened to kill her followed through on their promise.
"In the interim, you decide in a very split moment. I don't know if I'd ever do this again in hindsight: 'Am I going to let this guy take my bag with all my passports or am I going to fight for it?' And my decision was, 'I am not letting my bag go.'"
G/O Media may get a commission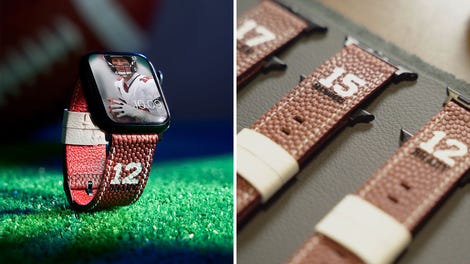 Official NFL PRODUCTS
Official NFL Apple Watch Bands
Of Kim's experience, Naomi said "I very much sympathize with her and I felt for her right away." Scary stuff.
[Page Six]

---