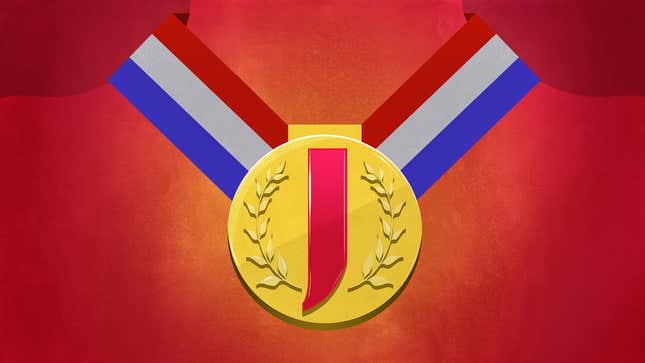 Have you ever watched the Olympics or any sports event and thought, "I could never do any of this. When will there be a competition for someone like me?" Now there is.
Betsy Wolfe Reveals the 'Most Embarrassing Thing That's Ever Happened' to Her on Stage
For the next ten business days, you'll have the treat of following the superhuman Olympics in Rio de Janeiro, and also the regular person, highly relatable Jezebel Olympics here on Jezebel.com.
We'll host events that any normal idiot could conceivably participate in, and post the results daily. At the end of the week, our teams will win an all-around team gold medal, silver medal, bronze medal, or nothing at all.
Here is your opening ceremony:
Now, I am pleased to announce your 2016 Jezebel Olympic teams. Please root for them/shit-talk them noisily!
Team Celebrity: Julianne Escobedo Shepherd, Bobby Finger, Anna Merlan, Aimée Lutkin.
Team Sex: Emma Carmichael, Clover Hope, Ellie Shechet, Stassa Edwards.
Team Fashion: Kate Dries, Madeleine Davies, Kelly Faircloth, Hillary Coker.
Team Deadmodo: Samer Kalaf (Deadspin), Hannah Keyser (Deadspin), Sophie Kleeman (Gizmodo), Beth Elderkin (io9), Matt Hardigree (Gawker Media).
Team Gawker: Brendan O'Connor, Ashley Feinberg, Gabrielle Bluestone, Hamilton Nolan.
Good luck to the competitors.