Reminder: Never agree to do anything for someone's wedding if you're not prepared to go all in. Sure, helping out sounds like a good idea when the wedding's two years off and you're sure the couple will break up before you have to do anything, but then you could end up like this guy: searching for a stand-in less than two days before the wedding.
This Craigslist ad, brought to you via Bro Bible, may just be a matter of some dude blowing off steam (god knows I've needed to every time I've been in a wedding), but I'm hoping it's the real deal because there's no better way to make your friend's day special like letting them know you just don't give a shit about their holy matrimony because Orange Is The New Black got released early on Netflix.
From the Craigslist ad:
I am in need of a stand-in wedding MC. I am scheduled too [sic] MC a friends wedding but do too unforeseen circumstances I wont be available for it. (Really there is a bunch of people I don't want to see and I would rather binge watch the new season of Orange Is The New Black) . His wife is a stress case so I don't want to throw this on them last minute and have him listen to her nag for the last days of their courtship. I would rather find a experienced and humorous MC to fill the spot. Its open bar so at some point in the night I am sure you will get funny. So if you want to have the time of your life, dance your pants off (or dress), and be a legend. Message me for more details. I will give you a heads up on my ex's that are there that you will want to steer clear of...
This actually sounds like an excellent opportunity for someone who maybe has their own MC gig on the horizon. Sure, you're put on the spot in front of hundreds of strangers trying to keep it together while eating stringy beef Wellington, but it's good practice. Plus, it sounds like this guy is already burning every one of his bridges (I'm hoping he doesn't plan to tell anyone about his absence), so why not help him set a wildfire that will eventually run him out of town and force him to forge a new identity, always looking over his shoulder to make sure that the angry bride and groom aren't following him?
The whole issue with the ex is legit, though. Ain't nowhere worse to see an old flame acting even remotely happy than at a wedding. Enough of a reason to bail.
G/O Media may get a commission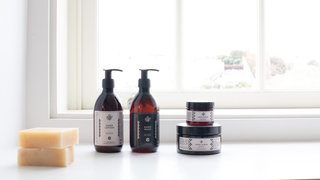 Exfoliate and Hydrate
The Handmade Soap Company
---
Contact the author at mark.shrayber@jezebel.com.
Image via Shutterstock.