Joined by parents Janet and Christopher, six-year old Grace Colbert hammed her way through an interview with MSNBC Tuesday morning, proving that the whole Internet can be freaking out about the fact that you're biracial, but if you're a child actor you think all the hubbub is just because you have such a "great smile."
During the interview, Grace's parents shared some delightful and lovely things about how normal their family was, saying that they weren't upset about any of the negativity thrown their way. "Being a part of a blended, biracial family, it's just a reality," Christopher told MSNBC. "We're also part of the face of America. America needs to see this is just a way of life." These comments were made as Grace whispered to herself, sighed, squirmed and generally behaved exactly the way you would if you were trying to have a conversation with a man you had never met via satellite. We did learn that Grace has gotten "a bunch" of auditions and got the inside scoop on the reaction from her friends at school: "They said they saw my commercial."
We would also be remiss if we didn't point out that MSNBC also mentioned Meagan Hatcher-Mays's lovely piece about being biracial and loving the Cheerios ad during their segment, so revisit that if you haven't had the time yet.
G/O Media may get a commission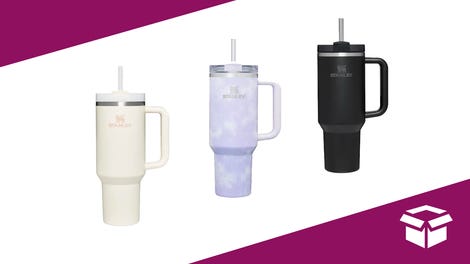 Up to 45% off
Stanley Cup Sale
Biracial Cheerios star becomes a phenomenon—chalks it up to her 'great smile' [MSNBC]