After watching this commercial, you might be tempted to go to YouTube and head down a rabbit hole of adorableness by watching several other Cheerios ads. During this time you might also notice that the rest of those ads have comments underneath them. And then you'd discover that Cheerios had to disable the comments on this one because it has an interracial family in it.
Ana Gasteyer Satirizes the Girl Boss in 'American Auto'
The controversy over the family in this ad has prompted Cheerios to stick with it, and though there's been backlash, right now their Facebook page is full of positive comments for the brand running it in the first place, with some people even writing that they have been prompted to buy the product now, the best case scenario for any company. Others on Reddit have lambasted what they see as a clear ploy of a company trying to get attention. What's genuinely moving are the people commenting about how nice it is for them to see a family like their own on television (a shift from the previous angry comments about General Mills refusing to label the products they make that have GMOs in them).
Whether Cheerios was subtly making a societal commentary or not by running this campaign, it seems notable that this commercial is about "Love", and other recent ones feature more "traditional" families are themed more basic things like "Happy Mother's Day" or "Smile." On an even broader level, what's being overshadowed is that this ad is basically about how kids perceive and understand adult problems like heart disease, an health issue that affects families of all kinds.
G/O Media may get a commission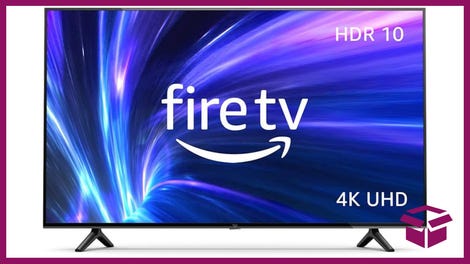 42% Off
Amazon Fire TV 50" 4K Smart TV
If history has shown us anything, however, it's that people will always be troubled about something:
Cheerios Ad: Black Dad, White Mom, Predictable Response [The Root]