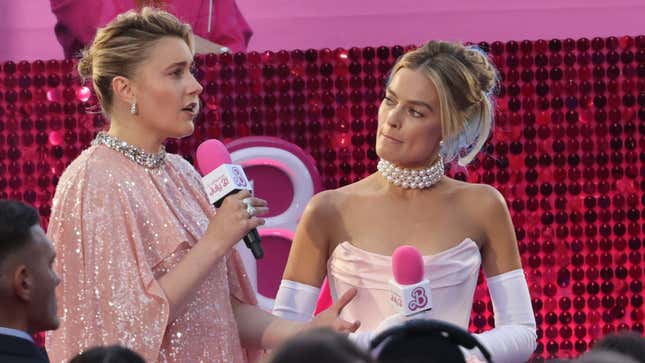 During the making of any epic, it's inevitable that some stuff winds up on the cutting room floor. An inconsequential exchange or a snoozy sex scene, perhaps. In the case of Greta Gerwig's Barbie, however, something called a "fart opera" didn't make quite enough noise to be included in the version now seen by millions worldwide.
Luke Macfarlane Talks Starring In Historical Gay Rom-Com 'Bros'
"We had like a fart opera in the middle [of Barbie]. I thought it was really funny," Gerwig revealed on IndieWire's Filmmaker Toolkit this week. "And that was not the consensus." While the context for this cutting-the-cheese scene went maddeningly unmentioned, two things are quite clear: Gerwig was surrounded by cowards during production, and she's a woman after my own...fart.
"We've always tried to get in a proper fart joke and we've never done it," Gerwig explained of her and her longtime collaborator, Nicky Houy's, intentions. Apparently, the pair's prior two films, Lady Bird and Little Women, also contained at least one fart joke but they were removed both times "about two-thirds through the edit."
While I'm dying for more details, I can only assume the "fart opera" would have occurred when Ken returned to Barbieland as a missionary for the patriarchy. Perhaps a part of Kens' overtaking of the government was him spreading the smelly word that, in the real world, fart jokes are the best jokes—a fart-surrection, if you will. According to Houy, though, it was eliminated because it they wrote it in the "wrong" spot.
"It was in the wrong place, too," he remarked. "We need to work it into a more significant narrative moment next time." Well, here's hoping!
Apparently, a few other things were left out of the film. The first? Barbie and Ken were supposed to share a smooch. However, Margot Robbie and Ryan Gosling told People that any attempts at affection between the two got the chop.
"All of my girlfriends were like, 'Well you did a whole movie with him and you don't kiss? What's wrong with you? I thought you were kind of in charge on this one!' " Robbie told the magazine. "It was so funny trying to figure out what their idea of kissing might be," Gosling added. "I'm so glad all of that got cut out."
Another devastating omission was Lady Bird and Little Women alums, Saoirse Ronan and Timothy Chalamet. They too, were also supposed to appear in the film. Sadly, those Barbies had scheduling conflicts. Finally, Helen Mirren, Barbie's narrator, was supposed to drop the film's second F-bomb (Issa Rae's president uses it but it's deftly bleeped by the Mattel logo) in a joke to...Marie Curie. Yes, the Nobel Prize-winning physicist who discovered radium and polonium was supposed to make an appearance in Barbie. Oppenheimer, who?
Though disappointing, none of the aforementioned is exactly shocking. In May, when Robbie appeared on the cover of Vogue, she revealed to the magazine that a joke that "sent their jaws to the floor" was also left out as it posed so much peril that she, Gerwig, and their team, thought they'd never be able to make the film if it was included. My first guess? A scissoring reference, probably.
All this is to say that clearly, some major restraint was practiced in the production of this movie. I get it. They had a billion-dollar brand breathing down their necks. Even still, I'll be thinking about the fart opera until it *fingers crossed* appears in Gerwig's upcoming Narnia franchise.