Vladimir Putin's rumored mistress, that is. Her name is Alina Kabayeva, and she is an Olympic gold-medalist, rhythmic gymnast, and member of the Russian parliament. And the mother of what may be Putin's love child.
If you read Russian — which I don't — you can see the entire Vogue profile here. But given it's a Vogue profile, I expect it contains rather more information about Kabayeva's interior decorating touchstones and favorite designers than it does her political career and that rumored lovechild. (Spot the Putin family resemblance, or not, here!) Kabayeva's cover marks an eighth contact hit for that gold Balmain dress, the one that's lately been eating up all the covers. Could you even imagine if Anna Wintour put Rielle Hunter on the cover of Vogue?
Kabayeva, who is 27, allegedly met the Russian prime minister after her unexpected loss at the Sydney Olympics made her a sort of national heroine. (Kabayeva was on track to win the gold in the all-around rhythmic gymnastics event, but at the climax of her hoop routine, she lost control of the hoop and it rolled outside the competition area. She won bronze at Sydney instead, and gold at Athens in 2004.) Kabayeva is also among the select group of ballet dancers and athletes — all attractive young women, curiously — whom Putin has promoted through the ranks of his party and into Russia's State Duma, or lower house of parliament.
In 2008, when Putin was still president, rumors arose that he and his parliamentary protégée were more than friends. After the Moscovski Korrespondent reported that Putin had left his wife, Lyudmila, to marry the ex-gymnast, the tabloid paper was swiftly closed down by the government. (The newspaper's owner later disavowed the story, and at the time, Putin held a joint press conference with Silvio Berlusconi to deny the allegations. Mental note: if I ever have to hold a press conference to address allegations of marital infidelity made against me, there's no-one on earth I'd rather have by my side than noted bunga-bunga aficionado Silvio Berlusconi, on the theory that next to him, even the most extraordinary sexual incontinence can't but look tame.)
G/O Media may get a commission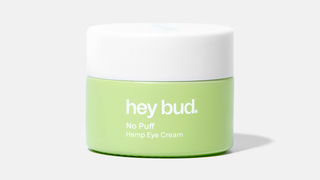 15% off
Hey Bud - No Puff Hemp Eye Cream
Since then, Kabayeva has given birth to the aforementioned son, and the Kremlin has tried to explain Putin's infrequent public appearances with his wife as the consequence of the prime minister's "immense workload." This October, Putin uploaded video of himself and Lyudmila answering a census-taker's questions in their home. Reuters reported:
The Putins have only rarely been seen in public in recent years, raising media speculation that they had secretly divorced and that Putin planned to marry Olympic champion gymnast Alina Kabayeva, who was born the same year Putin married Lyudmila.

Less than a month before stepping down as president, Putin dismissed the rumours, telling journalists to keep their "snotty noses" out of his private life.

In the new video, the Putins tell the census-taker they are married.

"I am his wife," says Lyudmila, looking slightly awkward and constantly adjusting her dress. She seemed nervous, her eyes frequently blinking, when asked whether her marriage was registered.
Meanwhile, here's a video of Vladimir Putin singing "Blueberry Hill."

Is This Vladimir Putin's Son? [GlobalPost]
Vogue Russia January 2011: Alina Kabayeva [The Fashion Spot]
Alina Kabayeva, Just One Of Vladimir Putin's Political Babes [In Out Star]
Tabloid Owner Explains Why Newspaper Was Shut [The Other Russia]
Vladimir Putin Croons In English For Hollywood Celebrities [NYTimes]