This season, fashion is heavily into gold. Models are dripping in gold chains, draped in metallicized leathers, or covered, like Siri Tollerod here, in actual gold leaf. I can only assume the ladymags are listening to too much Glenn Beck.
I mean, I get it. We're coming up on the holidays; sparkle-sparkle and razzamatazz rules the day. (Or, you know, the night.) Gold is shorthand for good times and fashion editors will tell you it "looks expensive." It's pretty easy to connect this fetish to our straitened times.

Gold's seasonal tally was certainly lifted by the fact that a single, heavily embellished Balmain dress has clocked — so far — seven fashion magazine covers. Including, clockwise from top left, Cindy Crawford on Vogue India, Abbey Lee Kershaw on Vogue Germany, Claudia Schiffer on Zeit Magazin, Anne Hathaway on Elle U.K., Anna Dello Russo on 10, and Natalia Vodianova on Harper's Bazaar U.K.

G/O Media may get a commission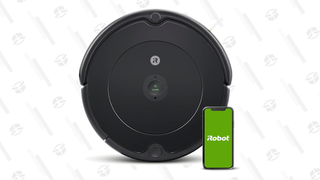 35% Off Black Friday Deal
iRobot Roomba 694 Robot Vacuum
Since her cover of 10 came out, Anna Dello Russo has styled not one but two editorials for Vogue Nippon featuring Alessandra Ambrosio — and heaping helpings of gold, gold, and more gold.

I mean, isn't it just the very definition of luxury to chill at home with your 3-CPO-lookalike mannequin, and talk shoes?

Freja Beha Erichsen wore a gold suit worthy of a minor Bowie persona in British Vogue's December issue. Economic uncertainty has pushed gold prices to record highs, and we're awash in news stories about the buying and selling of gold. Gold retains a powerful allure, despite its uselessness. Warren Buffett once said of gold, "it gets dug out of the ground in Africa, or someplace. Then we melt it down, dig another hole, bury it again and pay people to stand around guarding it. It has no utility." Well, duh. But what is fashion but the celebration of things that ostensibly lack utility?

Ahem. Sunburst nipple ornament, anyone?

The same British Vogue editorial featured Naomi Campbell, wearing a sort of golden mortarboard on her head.

Which rather recalled the golden face-cage-jewelry-spiked thing la Campbell put on earlier this year for Vogue Russia.

Of course, if you were actually interested in buying any of these outfits — this Balmain gold dress Georgia May Jagger has on costs more than $20,000 — you'd better sell a lot of old jewelry.