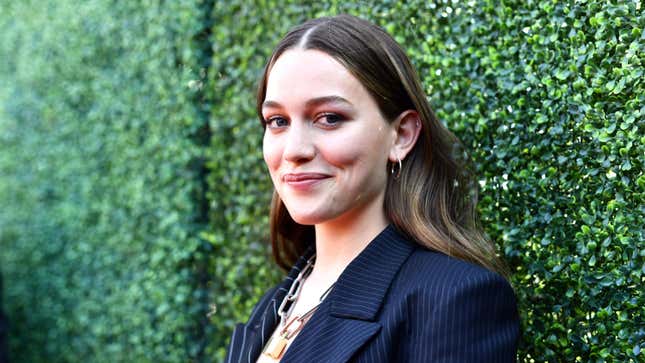 Victoria Pedretti, best known for carrying Netflix's You on her shoulders for two seasons, recounted a disturbing interaction with "a well known actor" in an Instagram post on Thursday. In a caption under a nude mirror selfie she posted, Pedretti said that, at her birthday party last year, "a 'well known' actor walked up to me at a party and said 'I've jacked off to you so many times.'" Pedretti said she was "shocked by the audacity," adding, "This is AFTER he expressed how much he RESPECTED me as an actor."

Revisiting Joe Millionaire, the Experimental 2003 Dating Show Built On an Elaborate Lie
The post, which Pedretti has already deleted, coincided with her birthday on Thursday, and appeared to be written as a love letter from the actress to her body. "Wtf is 'partial' nudity? Happy birthday to me 🖕," it began. She then gave a "shout out" to her body, and expressed that she sometimes "[enjoys] modesty," and sometimes she doesn't. But in either case, she said, "it's a joke to think that my own modesty will protect me from any disrespect I experience as a femme body."
Pedretti's post and caption both seemed to commemorate the anniversary of a gross and degrading exchange with an unnamed powerful man, while also making an important point: Sexual harassment, disrespect, and mistreatment have little to do with how we present ourselves as women. It's about power, and a culture that routinely shrugs off women's discomfort. To Pedretti's point, neither "modesty" nor any other choices women might make can protect us from harassment and general creepiness.
It isn't clear—nor does it matter—what scenes the male actor was referring to. Pedretti is most famous for her role in You as Joe Goldberg's (Penn Badgley) main love interest-turned-almost-killer. Badgley, himself, has more recently spoken about his own discomfort with filming sex scenes, and ultimately asked You's showrunner if he could stop filming sex scenes this season, period. In 2021, Pedretti characterized filming love scenes with Badgley as "strange," especially right after emerging from the pandemic lockdown.
Pedretti keeps a relatively low profile and notably shares little about her personal life, making her disclosure this week especially chilling.