For the past several months, Victoria Hearst, the great-granddaughter of Hearst Corporation founder William Randolph Hearst, has been working with the National Center on Sexual Exploitation to make sure issues of a magazine that helped make her family quite rich are appropriately blocked from the eyes of impressionable children. Now it looks as though Hearst's ridiculous attempts are working.
Women's Wear Daily reports that Rite Aid and Delhaize America (the latter of which owns brands like Food Lion and Hannaford) will start placing Cosmopolitan magazine behind blinders, to prevent shoppers from seeing the "the magazine's inappropriate content and covers," in the words of the Cosmo Harms Minors campaign that pushed for this change.
"We will continue to carry this publication. We are working to place future issues of this publication behind pocket shields," Rite Aid, which has over 4,000 stores in 31 states, said in a brief statement. Delhaise America has not confirmed that they're making the change in their various stores, but as Fashionista notes, "Food Lion says its blinders will be installed in the coming months in its 1,100 stores in 10 states."
"The content in Cosmopolitan Magazine is very different from the other women's magazines in the checkout line," Dawn Hawkins, executive director of the NCSE, told WWD. "Many people think that it is just another magazine with beauty, fashion and health tips, but Cosmo is actually just another porn magazine glamorizing and legitimizing a dangerous lifestyle — pushing readers to try violent, group or anal sex. Articles often encourage readers to engage in one-night stands or random hookups with strangers. The magazine is pornographic and should be treated as such, meaning specifically that it should not be in plain view of children at the checkout line."
That's pulled straight from a whole load of similar blather on their website, like how Cosmo advertises "many dangerous sexual practices that are harmful for anyone attempting them, but especially for the young readers Cosmo tends to draw in." More on that:
For example, Cosmo blatantly encourages readers to engage in sex positions (The Cosmo Sex Challenge: 77 Positions in 77 Days) that are harmful to both men and women. Cosmo encourages readers to have hookup sex with strangers, attend sex parties, attempt positions that are known to leave physical damage, and more. Many doctors have advised against these "tips" from Cosmo, yet their words of warning remain silenced and ignored.
G/O Media may get a commission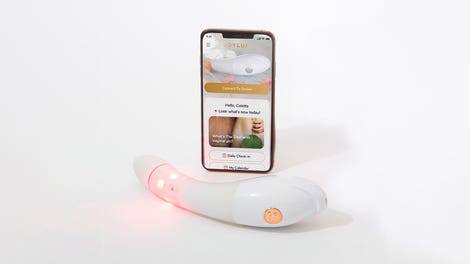 $50 Off
Joylux vFit Gold Device
Hearst and Cosmo don't appear to be fighting the switch, but they can't be happy; that's a lot of stores covering up a decidedly non-pornographic magazine because of coverlines like "Simple ways to make him worship you." It seems likely that this could make a dent for the publication in a industry where each issue needs every eyeball (and purchase) it can get.
---
Contact the author at dries@jezebel.com.
Images via the National Center on Sexual Exploitation