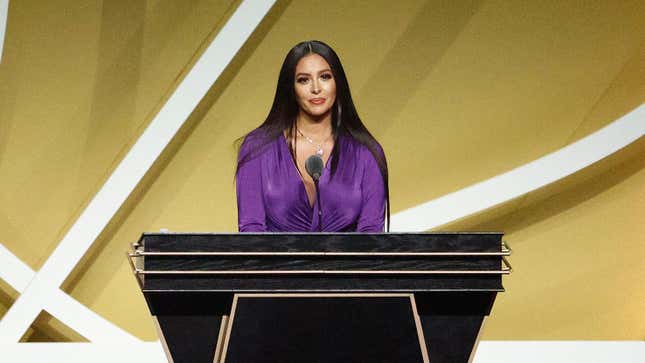 Three years have passed since former Los Angeles Lakers star Kobe Bryant, his 13-year-old daughter Gianna, and seven others were killed in a helicopter crash in Calabasas, California. Kobe and Gianna were survived by Bryant's wife, Vanessa, and their three other daughters. The tragedy was made even more horrific when, shortly thereafter, news broke that employees of the Los Angeles County sheriff's and fire departments shared photos of the crash. On Tuesday, Vanessa Bryant finally got justice.
Bryant has now settled her remaining claims of emotional distress and invasion of privacy with L.A. County for $28.85 million, which includes a $15 million settlement a jury had previously awarded the family. Over the course of an 11-day federal trial that took place in August, ESPN reported, Bryant testified that hearing about the photos "compounded her grief a month after the crash and that she had panic attacks at the thought that the photos might still be out there." Chris Chester, Bryant's co-plaintiff whose wife and daughter also died in the crash, received a $19.95 million settlement.

"Today marks the successful culmination of Mrs. Bryant's courageous battle to hold accountable those who engaged in this grotesque conduct," Bryant's attorney, Luis Li, said in a statement. "She fought for her husband, her daughter, and all those in the community whose deceased family were treated with similar disrespect. We hope her victory at trial and this settlement will put an end to this practice."

The photos in question were taken at the scene of the crash and were distributed across the city's sheriff's and fire departments. The photos were reportedly seen by some of the officers' spouses, as well as by a bartender who was allegedly shown them by a deputy who bragged about his involvement in the case.

The settlement represents both a win for Vanessa Bryant's family's privacy and for the protection of future high-profile victims. What the family went through was tragic enough; they didn't need to be further traumatized knowing photos of their deceased loved ones were circulating among first responders.
Mira Hashmall, the lawyer who represented the city, said the settlement was "fair and reasonable" and that the payment "resolves all outstanding issues related to pending legal claims in state court" as well as "future claims by the Bryant children."

The family and the sporting world continue to celebrate Kobe and Gianna's lives. August 24 is now Kobe Bryant Day, or Mamba Day, in Los Angeles; he was inducted posthumously into the Naismith Memorial Basketball Hall of Fame in May 2021; and Kobe's Mamba Sports Foundation was renamed the Mamba & Mambacita Foundation in Gianna's honor. In August 2022, Vanessa Bryant revealed that she planned to donate the $15 million in damages she initially won to the Mamba & Mambacita Foundation.