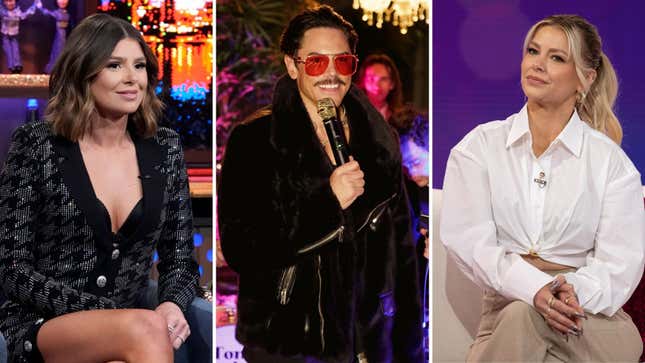 The shittiest thing about being a card-carrying member of the Bravoverse is knowing—or at least, hearing rumors of—plot points in my beloved guilty pleasure shows before they ever air. No, it's not having to defend my devotion to these silly little programs. It's being let down 9/10 times because I—a 29-year-old woman—am too informed of other people's business. Last night's final installment of the Vanderpump Rules reunion was no exception.
Raquel Leviss Told Us 'I'm Like, A Good Person' Just 48 Hours Before #Scandoval
For weeks, producers of the series—which resurged in popularity this spring thanks to a little thing called #Scandoval—teased some bombshells in the final five minutes of the reunion: "There are revelations and developments that left even our heads spinning," the series' boss, Alex Baskin, divulged to The Hollywood Reporter this week. Well, it's aired, and my head is very much stationary.
The revelations, unveiled via a separate sit-down with Rachel "Raquel" Leviss, are as follows: The star-crossed lovers at the epicenter of #Scandoval, Leviss and Tom Sandoval, didn't just have sex one time as he's previously maintained. To the shock of absolutely no one, they consummated their affair several times. Leviss confirmed a long-standing rumor that she and Sandoval were sneakily hooking up even on a cast trip to Mexico for the wedding of their co-star, Scheana Shay. Horrendously, Leviss also shared that they had sex in the home Sandoval shared with former partner, Ariana Madix, as the latter was away for her grandmother's funeral. I'll note here that Sandoval previously insisted this never happened.
"That's the one story that we've agreed on getting straight, and I know that the reason why Tom wanted to lie about is because it's a really bad look to hookup with someone's boyfriend in their own house when they've gone out of a town, especially for a funeral of all things," Leviss told producers through sobs. She went on to confirm that the matching lightning bolt jewelry, seen on both Sandoval and Leviss throughout the season, was, in fact, a symbol of their love.
Though all of the aforementioned amounted to a bunch of non-shells, Leviss did divulge something that managed to make even my jaw drop: She proposed a throuple between Sandoval, Madix, and herself.
"I mean I even suggested maybe like, 'What would Ariana think about like having me as an addition?' And he was like, 'No no no she would not be into that,'" Leviss said. "I love Ariana as a person and then also I'm in love with Tom Sandoval, so yeah it didn't seem that far-fetched of an idea, but it was not something in question."
"God he's gonna kill me I just hate lying so much," Leviss added.

Thus far, Sandoval, Leviss, nor Madix have commented on the reunion's final five minutes, but the latter is currently capitalizing on another egregious thing said during the three-part reunion. At one point, Sandoval told their cast members that Madix kept her shirt on while they had sex. In response, she just dropped a t-shirt that reads: "Fuck Me In This Shirt."
Apparently, redemption can now be yours for the low, low price of $34.99.
---