University of Wisconsin-Madison student Alec R. Cook has been charged with four counts of sexual assault. He now faces 15 more after a student accused him of touching her inappropriately during class.
The details of the initial charges against Cook sound particularly horrifying. Milwaukee-Wisconsin Journal Sentinel reports:
Alec R. Cook, 20, was charged Thursday four counts of second-degree sexual assault, three counts of battery, and one count each of strangulation-suffocation and false imprisonment in connection with an incident Oct. 12, according to police and court records.

According to City of Madison Police, Cook was arrested after the incident in which he allegedly attacked a 20-year-old woman in his apartment in the 500 block of N. Henry St.
Since Cook's arrest last week, three more women have reported alleged assaults, including one woman who claims he attacked her in his apartment in February and another who alleges he also attacked her in his apartment in 2015. The latest allegations bring 15 more counts against him, from a student who alleges that Cook touched her inappropriately in class in 2016. The grand total of charges lodged against Cook in court Tuesday was 30, but more are likely to emerge.
The Wisconsin State Journal reports that according to Assistant District Attorney Colette Sampson, Cook "kept notebooks detailing the grooming and stalking of women."
During the execution of a search warrant of Cook's apartment, Sampson said, police found a notebook that contains what is believed to be his grooming and stalking techniques for numerous women. There were more than 20 such notebooks, she said, but only one has been reviewed by investigators so far.

"Since then there have been individuals who have come forward, and law enforcement is looking through those books to search out additional victims that might be found," Sampson said.
G/O Media may get a commission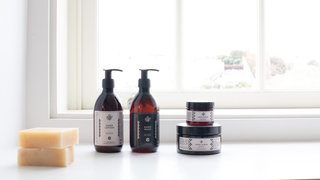 Exfoliate and Hydrate
The Handmade Soap Company
One of the notebooks allegedly contained an index page which "listed the interests of the women that Cook was pursuing, what he would do with them, and one column simply marked, 'kill.'" Investigators believe that Cook has been sexually assaulting women since March 2015 and that his level of aggression and intensity has grown over time.
Cook's attorney Chris Van Wagner has called the accusations a "character assassination," pointing to the "media firestorm" on social media as a culprit. Cook has been called a "dangerous alpha male" and this, it seems, is an inaccurate assessment of what's really going on. As for the notebooks, Van Wagner cited his own history as an English major in college, saying "every single short story could be interpreted 12 ways." I'm not sure how many other ways there are to interpret a column with the words "kill" next to the names of women, but I'm sure that they'll find a way.
Dean of Students Lori Berquam said in a statement released Tuesday, "This is a serious case and the university is responding...Based on the severity of the allegations and the potential impact on the campus community, the university is disclosing that this student is under emergency suspension from the institution."