Is Beyoncé pregnant? Is Beyoncé pregnant? Is Beyoncé pregnant? Is Beyoncé pregnant? — The sound and the fury of the Internet, signifying nothing except not minding its own beeswax. (Also, I bet Beyoncé's not pregnant.)
"Multiple sources" are using their X-ray vision on Bey's womb, a glorious Swedish sauna papered with glitter glue and Beyoncé clippings, to determine if any animal, mineral or vegetable is chilling therein. Apparently "pictures have emerged on blogs of what looks like a baby bump from recent [Mrs. Carter World Tour] dates," and the Givenchy belted dress she wore to the Met Gala was "suspicious" as well, or something, whatever.
Last week Bey told Good Morning America: "I would like more children. I think my daughter needs some company. I definitely love being a big sister. [But it'll happen] at some point, when it's supposed to happen." [Page Six, Metro.co.uk]
---
G/O Media may get a commission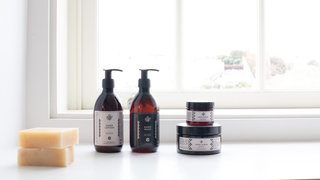 Exfoliate and Hydrate
The Handmade Soap Company
After 37 years in the biz, Barbara Walters plans to retire from ABC (The View included) in 2014 to focus on her longtime passion, fronting the heavy metal band Slayer.
"I am very happy with my decision and look forward to a wonderful and special year ahead both on 'The View' and with ABC News."
She continued, "I created 'The View' and am delighted it will last beyond my leaving it.
Who will fill Barb's seat on The View?! She's irreplaceable. (Psst, ABC, replace her with any of the men in this video.) [TMZ]
---
The Klardarshairns aren't liking how Kanye West is treating Kim, perhaps because they were under the impression that Kim had been in a serious relationship with Disney Prince ectoplasm instead of the guy who wrote "Have you ever had sex with a Pharoah? Put the pussy in a sarcophagus."
"Like everyone else, Kim's sisters and mom saw the video of Kim and Kanye in Paris. They were more than a little shocked, to say the least!. Kris told a friend she couldn't believe that Kanye didn't think it was the right thing for him to do to open the door for a six-month pregnant woman. But Kris has long lamented that it's always been all about Kanye — and not Kim."

"He's ambivalent about spending time with Kim and the family unit. As everyone knows, the Kardashians are a tight-knit group so it has comes as a shock to everyone that Kanye just doesn't want to spend time with them. When he does, it's like he's got eyes on the exit door to make a quick getaway."
But also who can blame him? I can barely listen to a recording of Khloe say "Lamaaaaaaaaaaaaar" without becoming a nun and then jumping into a volcano. [Radar Online]
---
Goop Paltrow got drunk at an Australian talk show appearance and literally toasted to "our hairless vaginas." Some things we learn during her enthralling discussion of pube maintenance, related to her Iron Man 3 premiere dress emergency razor situation:
"I have a big '70s bush." [panicky, adds] "JUST KIDDING!"

"I look like an 8-year-old girl, basically."

"Every time I have a bikini wax, Cameron Diaz holds me down."
Same. Does she get them waxed into the shape of a flowering zucchini plant? [NYDN]
---