Reese Witherspoon totally regrets that she Tracy Flicked out on the cop who pulled her and husband Jim Toth over around midnight on Friday, booking Toth for a DUI and Witherspoon for disorderly conduct (Reese yelled "Do you know my name?" at the cop and claimed that he was not a real police officer). Above, find her sassafrassy mug shot.
She's released the following statement via her rep:
"Out of respect for the ongoing legal situation, I cannot comment on everything that is being reported right now. But I do want to say, I clearly had one drink too many and I am deeply embarrassed about the things I said.

It was definitely a scary situation and I was frightened for my husband, but that is no excuse. I was disrespectful to the officer who was just doing his job. The words I used that night definitely do not reflect who I am. I have nothing but respect for the police and I'm very sorry for my behavior."
Maybe her new brown hair is having a Betty/Veronica effect? #science [People, In Touch]
---
G/O Media may get a commission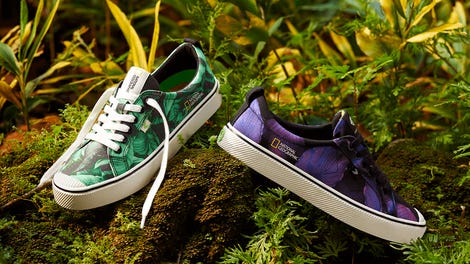 New New New
Cariuma + National Geographic
Let the "Norwegian Wood" headline jokes commence, for it does appear that Justin Bieber and Selena Gomez maybe, kind of, sort of hooked up while they were in Norway at the same time. Yesterday, El Beebo posted a shot of the two cuddling on his Instagram page, but quickly took it down. (He also still has a shot of Selena as his phone background. I mean, he may as well have been photographed wearing a wedding ring, right?)
Anyway, tl;dr, the sex lives of children. [NYDN]
---
It is pretty unsurprising that nobody at Coachella cares about Tara Reid, considering Coachella is comprised entirely of fake Zooey Deschanels and one real Zooey Deschanel who all have vintage typewriters where their TVs used to be. However, Reid got kicked out of All Saints after being refused a discount based on her "fame" and pitching a shit-fit.
"She was screaming," said a source. "She had to be escorted out by security. She seemed drunk."
[Page Six]
---
Some gossip-blogger-turned-memoirist who's read too much old-school Bret Easton Ellis recalls sitting in a club bathroom and watching Lindsay Lohan snort some yay.
The PR girl opens the bathroom door for us to walk through and stands guard outside. It's candlelit, but the light makes my pupils shrink. Lindsay goes straight for the toilet, pulling her dress up and sitting (no underwear) and one of her breasts is hanging out the top of the dress. I start to wash my hands and she asks me, 'So, what's your story?' before doing an uneven line of coke off her wrist.

I say, 'Nothing… just, y'know… partying.'"

I'm watching Lindsay do coke to my right, that pale tit hanging out, and it takes a couple of seconds to kick in that it's intentional. I'm supposed to see this. She wants me to. And she's doing more coke, raising her eye-brows at me like, 'Want some?' She sniffs. Snorts. She swabs a little in her mouth and I've heard about this kind of thing on TV and in the papers, but it's different seeing it: the chick from Mean Girls doing blow on the toilet next to me. She's not the same girl anymore. Something's changed. She's lost her way and seeing it is freaking me out.
Wow, bro, your prose way illuminates the moral vacuousness of celebrity culture. [Radar Online]
---
Images via AP