Danielle Powell was one semester short of earning her bachelor's degree when she was kicked out of Nebraska's religious Grace University for being gay in the year two thousand and twelve. Now, she says the only way the school will transfer her credits to another university is if she agrees to pay up $6,300.
In early 2011, Powell began a relationship with a woman, and confided so in her spiritual advisor. In turn, her spiritual advisor told the school, and they brought Powell before a judiciary board to decide whether she should be allowed to stay enrolled. FYI, Powell hadn't even come out to her family, and was basically forced to do it earlier than she wanted to because of this incidence.
According to the university's student handbook, that sort of behavior is not tolerated at Grace, a conservative Christian institution. Powell, at the time, was not even out to her family yet. In spring 2012, after attempting a "restoration" period with the school, in which spiritual counseling was encouraged, she was expelled from Grace, because she was still gay.
The school stripped Powell of her scholarship, and is now requesting that Powell pay back the $6,000 of the scholarship meant for her final semester (you know, the one they wouldn't allow her to complete), and said that they would not transfer her credits until she did.
Michael James, executive vice president at Grace, told Powell in a letter, a copy of which was provided to the Huffington Post, that she was being "deceitful" and said it would be "unethical" for the university to readmit her since it "would be impossible for the faculty of Grace University to affirm your Christian character, a requirement for degree conferral."
G/O Media may get a commission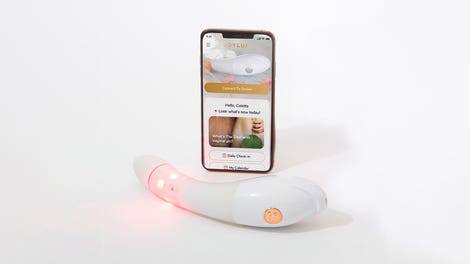 $50 Off
Joylux vFit Gold Device
"College was always kind of one of those things I never thought was an option for me because of my financial background," Powell told HuffPo, saying she'd be the first in her family to get a degree. "It's something I've invested too much in to not finish."
Powell is fighting it, and her now wife — you can see their moving engagement in the video above! Say what you will about Macklemore, but that's lovely! — started a petition to ask the university to forgive Powell the six grand. As if she's the one who needs to be asking for forgiveness. Right now, the petition has over 51,000 signatures — and wants to get to 75,000. Let's help.