Waiting in line is enraging. Seeing people skip the line because they're rich, famous and/or Justin Bieber is even more enraging. It is probably the single most important reason why I want to become rich, famous and/or Justin Bieber: so I can skip the line (while releasing massive farts as punishment to the masses for being incapable of line-skipping).
But until I can engage in my comedic, cruel terror, I am but a peasant, perpetually stuck in line. Which is why I'm about to unload a full dump of anger at Universal Studios theme park. The theme park has taken inspiration from airports, clubs, and the criminal system by introducing an increasingly popular VIP ticket that gives rich people exclusivity from the stinky, fat and unattractive masses at their parks.
The VIP ticket is selling for $299, and offers a shitfest of privileges that would make Donald Trump crumble with joy: a fancy breakfast at a fancy lounge, a gourmet lunch in a gourmet VIP dining room with your own slave executive chef, valet parking, personal tour guides and EXCLUSIVE ACCESS TO SETS, exclusive backlot access and of course, UNLIMITED LINE SKIPPING. They also get little "amenity kits," filled with water, mints, and hand sanitizers, as well as peasant-repellent. Why not just take a vial of my tears, too?
The food does not sound that attractive, unless they intend to serve George Lucas' soul on a plate. What is really cool though, is that while normal tourists are stuck in trams and given a few seconds to take pictures of legendary sets, these VIPers get to get off their glitzy trams and walk into the sets.
VIPers get to touch things, like movie costumes and set pieces. They get to take a gadzillion selfies with Back to the Future, whereas peasants only get a blurry picture of the set.
G/O Media may get a commission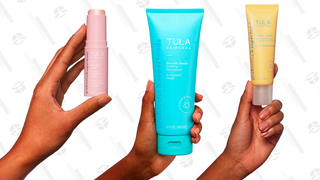 Rich people have already talked to New York Times (as do all rich people) about the wonders of the VIP treatment. One example is as Mark Lieber, CEO of Rethink Entertainment and Media. He said "if Universal didn't offer a VIP option, I wouldn't go...I just don't have the time to wait in a line." OH YEAH??!?! NO ONE DOES, BUT WE MAKE THAT SACRIFICE FOR FUN. No one's time is worth more than someone else's time, just as much as no human being is worth more than another. Now go buy yourself a new soul, Lieber.
Of course there is concern that this VIP tickets creates an environment of haves and have-nots. I mean, how am I supposed to have fun at Universal Studios knowing that there are people who are having more fun than I because they have monies? But Universal claims there are no complaints from impoverished guests, probably because one would have to pay extra money to give customer feedback.
Disney isn't about to jump on the VIP ticket train — they believe we are all equal in following our dreams. And if you don't believe that, you can do what rich people do and hire disabled people to skip the lines.
At Theme Parks, a V.I.P. Ticket to Ride [New York Times]
Image via Phelan M. Ebenhack/AP