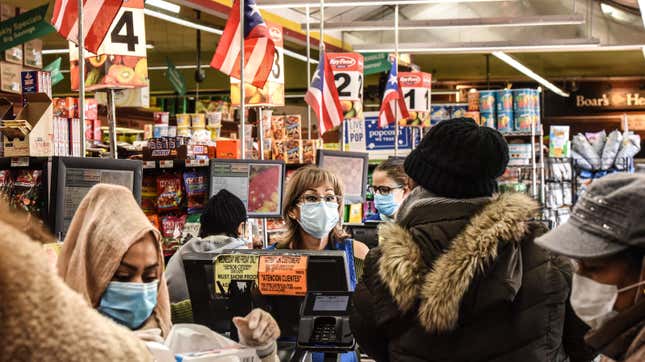 As bad as the past four months of the coronavirus pandemic have been in the United States, it's likely only going to get worse from here.

Taylor Lautner Doesn't Even Remember Saying 'Bella! Where the Hell Have You Been Loca?'
The Centers for Disease Control and Prevention reported 64,582 new covid-19 cases on Sunday, raising the total number of cases in the U.S. to 4,197,184 with 146,632 deaths, per Johns Hopkins University data provided to CNN. Cases are soaring throughout the country, with California, Minnesota, Kentucky, and 15 other states setting records this week for the number of cases recorded in a single day, The New York Times reports.
These numbers are alarming on their own, much less in conjuction with the mass unemployment, impending housing evictions, and lack of confirmed federal relief we're also barreling into. Here's a brief look at what a handful of states are dealing with right now:
Rhode Island's government is urging out-of-staters from Massachusetts and Connecticut to stop visiting the Ocean State's beaches, CNN reports. Apparently, Rhode Island saw a 340,000 people visit its beaches last month—that's 150,000 more visitors than June of last year, i.e., a 79% year-over-year increase.
Hawaii set a new single-day record this week, though the state has managed to avoid a spike thanks to what The Guardian is calling its "geographical advantage" of being an isolated chain of islands in the middle of the Pacific Ocean. (There have only been about 1,400 cases and 25 deaths thus far, far lower than many other states.) Where Hawaii has been hard hit is with unemployment, much of which is connected to the near-total shutdown of tourists coming to the islands. (Tourism generated $17 billion for Hawaii in 2019.) While the unemployment rate fell from 23.5% in May to 13.9% in June, The Guardian reports that approximately 85,000 people remain out of work—most of whom, I'm assuming, will be even harder hit now that their $600 weekly CARES Act boosts have come to an end, per CNBC.
Florida health officials say that the reopening of Disney World, Universal Studios, and other theme parks have not caused any covid-related outbreaks. I'm really surprised, but all right then.
Georgia set a record for single-day cases on Friday, though that stat declined on Saturday and Sunday. Today, the state reported 2,765 new cases, which is down from Saturday's 3,787, according to CNN.
There's been a horrible surge of covid cases in Starr County, Texas, with 2,350 cases per 100,000 people—an infection rate that's way worse than Houston and other more populous parts of the state, The New York Times reports. As the rural county only has one hospital, ethics committees are forming to help medical providers determine which patients they'll treat and which patients they'll send home to die.
New York might not be reporting nearly the same number of covid cases or deaths as it was back in April, but housing rights groups told The New York Times that as many as 60,000 people eviction cases could be filed now that the moratorium on evictions came to an end this weekend. Speaking only for myself as someone who lives in New York, this is going to be a disaster—an entirely preventable disaster, if only our elected officials with the power to prevent it had done so.