Two women have come out saying that Donald Trump, a repugnant pile of fetid horse shit, touched them inappropriately. The New York Times reports that in the wake of Trump's recently leaked comments about grabbing women by their genitals, Jessica Leeds and Rachel Crooks have gone public with their stories.
Over thirty years ago, Leeds, then a businesswoman at a paper company, found herself sitting next to Trump on a flight in first class on the way to New York. They did not know each other, but allegedly Trump introduced himself, shook her hand and felt that was enough to violate her personal space and do the following:
About 45 minutes after takeoff, she recalled, Mr. Trump lifted the armrest and began to touch her.

According to Ms. Leeds, Mr. Trump grabbed her breasts and tried to put his hand up her skirt.

"He was like an octopus," she said. "His hands were everywhere."
She fled to the back of the plane. "It was an assault," she said.
Leeds reportedly told only a few people close to her, who also spoke to the Times. The second woman in question, Rachel Crooks, was 22 in 2005 when she encountered Trump. A receptionist at Bayrock Group, a real estate and investment firm based out of Trump Tower, she found herself face to face with Trump outside an elevator in the building and felt compelled to introduce herself. Instead of shaking her hand and going on his way, this is what he did:
They shook hands, but Mr. Trump would not let go, she said. Instead, he began kissing her cheeks. Then, she said, he "kissed me directly on the mouth."

It didn't feel like an accident, she said. It felt like a violation.

"It was so inappropriate," Ms. Crooks recalled in an interview. "I was so upset that he thought I was so insignificant that he could do that."
Crooks spent the rest of her time at Bayrock assiduously avoiding Trump, for fear of finding herself in a position where she might be alone with the man again.
When questioned by a Times reporter Tuesday night, Trump vigorously denied the claims, "shouting" at the reporter in question, threatening to sue the newspaper and accusing the reporter of making up the allegations in order to hurt his campaign, calling her a "disgusting human being" while doubling down on his insistence that the kissing, groping and sexual assault he described in detail on the leaked recordings were nothing more than empty boasts. You know, just boys being boys.
G/O Media may get a commission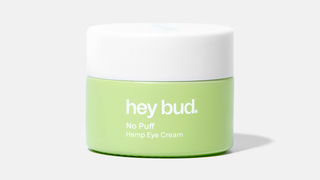 15% off
Hey Bud - No Puff Hemp Eye Cream
At Sunday's nightmarish debate, Trump flapped his jaw and soundly denied that he had ever actually groped anyone. It is now exceedingly clear that Trump is a fucking liar.