Fox News host Tucker Carlson is clearly sleepy after a long week of work because his troll takes are even more trollish than usual.
On Friday's edition of Outnumbered, the show where everything's made up and the points don't matter, the gang discussed Hillary Clinton's recent comments that women are "more attuned" to certain issues.
"I think that my life experiences, what I care about, what I've been through just make me perhaps more aware of and responsive to a lot of the family issues that people are struggling with, whether it's affording child care or looking to get their incomes up because everything is increasing in cost," she said to Time. "I really do feel that my preparation for being president puts me very strongly on the side of helping American families and that's at the core of my campaign."
Fox's Sandra Smith began the conversation, saying, "There is strong differences between men and women, but you should let that happen organically, that should just naturally come out, why a woman has better attributes than a man in certain places in our lives, but she is pressing the issue."
"Wait, wait a second, if there's an upside, then there's a downside," said Tucker Carlson, someone's future dad. "If I get out there and say here are the reasons you should elect me, I am a man and this makes me better at certain things, the obvious question is so what are you worse at because you are a man?"
G/O Media may get a commission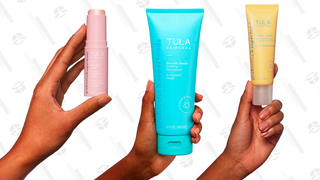 "And now the question is an obvious one for Hillary," he continued. "So you are more in tune with families, actually I kind of believe that's probably true, but what are you worse at? So you're more emotional? We could get into all the stereotypes. Once you get into this using an immutable characteristic for which you are not responsible."
"Tucker, why is that the first thing that came to mind?" asked Smith.
"Because it's true. This is such a shallow thing to campaign on. It's all she has, that's why she's doing it. But she opens herself up rationally to real questions."
Watch the clip below courtesy of Media Matters.
---
Contact the author at joanna@jezebel.com.
Image via screengrab/Fox.