In a recent interview, Jesse James talked about what he's learned (not a whole lot) since being exposed as a cheater, and how much the Sandra Bullock scandal still follows him.
Five years into his marriage to Bullock, in 2010, James admitted to cheating on her only after multiple women came forward about his affairs. It was then that Jezebel described him as "the most hated man in America." James, 47, seems to think he's paid his debt in public.
"Yeah, I did cheat on my wife. Yeah, I stood up and took accountability for it and apologized. And that's end of story," he told the Daily Mail. "The easy [potshot] is like, 'Oh, well you cheated on Sandra Bullock.' That's the world's easiest comeback. In general, both women and men cheat. It's part of life." That is true and also a thing people far more selfish than remorseful say to avoid facing themselves.
James appears frustrated that he still gets dogged out about the cheating (on social media, particularly) seven years later:
"It's like people love to see you fall. And the farther you get, the higher you get, the more they love it. I look at myself now and I look at how I was feeling then, and I think I was completely overreacting as far as letting it really get to me. I think it was having 50 or 60 or paparazzi outside my house for five or six months… That was not a good feeling. I'm a fighter man, I come from the tradition of – if you do something I don't like, I'm going to punch you."
G/O Media may get a commission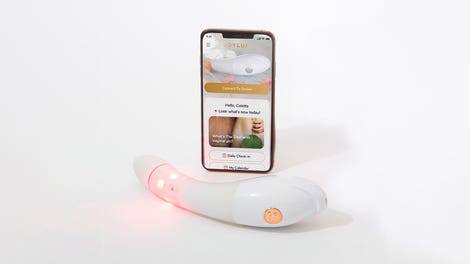 $50 Off
Joylux vFit Gold Device
What an angel.
Another fun fact is that James is a vocal supporter of President Trump. He's even giving him some guns:
Now happily remarried to wife number four, drag racer and heiress Alexis DeJoria, 39, James has thrown himself into a panoply of new ventures, including a gun manufacturing business and a National Rifle Association clothing range.

West Coast Choppers still powers on, albeit largely in the form of clothing, and James says his $25,000 apiece guns are now his main focus – among them the weapon he is making as a gift for President Trump.
Despite these character flaws, James has managed to be married four times (Bullock was his third wife), though here we learn that one of his wives may as well have not existed:
Jesse says his 11-year marriage to Karla James "doesn't count," as he was 10 years her junior when they tied the knot in 1991. "I was 20 when I got with her and she was 30. Isn't that kind of bad?" he asks The Daily Mail. "Like, my daughter's 22 right now, and I imagine if some 30-year-old dude came round, I'd be like, 'No, no, no.' That was kind of scandalous. No ill will [towards Karla], but by the time I was 30 and she was 40, we had nothing—nothing—in common."
Perspective.