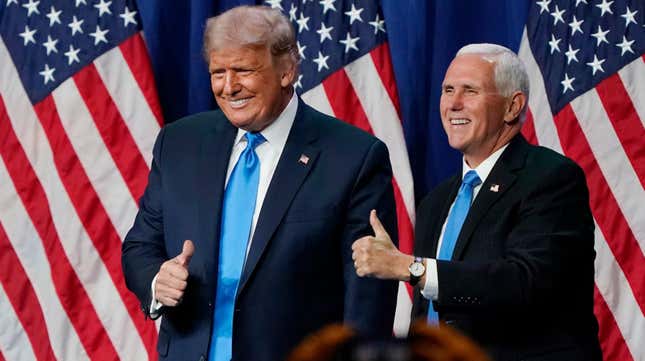 Earlier this week, we learned that a fresh indictment against former President Donald Trump for his role in inciting the Jan. 6 insurrection relied heavily on key evidence produced by Trump's former VP, Mike Pence. Pence has since embarked on an uncharacteristically anti-Trump bender, insisting that Trump's actions disqualify him from the presidency and disparaging his "crackpot lawyers"—which is all probably because Trump is trouncing Pence in the primary polls.

Lagoona Bloo Gives The Venga Boys' Nostalgic '90s Hit the Cover It Deserves
But because this is Donald John Trump, a man who's quite literally egged on his bloodthirsty supporters to call for Pence's execution, he is absolutely relishing in the opportunity to dunk on his former running mate once more. "I feel badly for Mike Pence, who is attracting no crowds, enthusiasm, or loyalty from people who, as a member of the Trump Administration, should be loving him," Trump sniped on Truth Social Wednesday. Then he added a little dig at Pence not "[fighting] against Election Fraud" and insisted yet again that "the V.P. had power that Mike didn't understand." Of course, there's no evidence of election fraud, and the Vice President does not have the power to declare a winner of a presidential election other than the one the public picked—Trump is just babbling authoritarian insanity. And, mind you, he is still by far the frontrunner for the Republican presidential nomination again.
Meanwhile, Trump's most engaged supporters are re-upping calls for Pence to be publicly executed. Right-wing forums are presently rife with death threats and graphic death fantasies for the former vice president, Rolling Stone reported on Wednesday. Trump supporters on TheDonald (???) are openly calling for Pence to be hanged, with one user writing, "I want to watch his toes dangle in the breeze," and others writing that they'd like to "witness" this together. Other users on the forum are praying, "May GOD Strike [Pence] down for his lies and treachery to the American People." A senior federal law enforcement official told Rolling Stone they're "seeing an uptick in calls for violence right before and since [Tuesday's] Trump indictment."
Amid all this, Pence assured donors on Wednesday that they expect him to qualify for the first Republican presidential debate by next week, despite the fact that he has about as many percentage points in the polls as Trump has indictments. Should Trump ultimately decide to participate (after months of threatening not to), just think of all the sparks that would fly on stage!