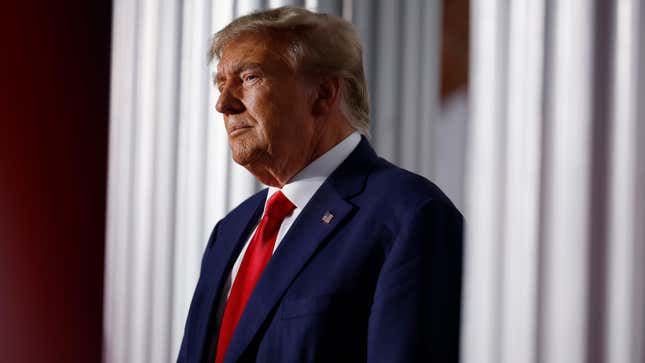 Despite facing the threat of up to a decade in prison, former President Donald Trump is still running for president and very much in campaign mode. This week, at a celebratory Wednesday birthday lunch in the popular Miami diner Versailles, Trump—in an effort to court voters—offered to foot the bill for everyone at the restaurant, declaring, "Food for everyone!"

Infamously Thin-Skinned Man Joins Twitter's Board
You can probably guess what happened next: Per the Miami New Times, Trump bailed just 10 minutes later, without paying for a single person's meal.
You might be tempted to call the mastermind behind Trump Steaks and Trump University "cheap," or perhaps even a "conman." Being unable or unwilling to provide food for a small diner full of people may raise further doubts as to whether he's even a billionaire or a good businessman at all, as he claims—he's certainly squandered the massive amount of money he inherited. But this is just how business works. He was teaching these Floridians a lesson: There's no free lunch, not even on the campaign trail at the (perfectly named) Versailles diner.
I imagine Florida Republicans feel pretty torn right now between a former president found guilty of rape and indicted for multiple crimes including espionage, and their current governor, recovering Disney adult Ron DeSantis. Given the events of this week in Miami, DeSantis presently has the opportunity to do something very funny and maybe win over at least a couple voters in his state: He can show up to Versailles, stay for more than 10 minutes, and actually pay for patrons' food. Of course, he probably won't—the man is as bad at politics as Trump is at business, and staying at a diner for more than 10 minutes would require his off-putting, robotic ass to interact with actual people.
It really is an interesting time to be a Trump man right now—over the last several days, they've been indicted for espionage (Donald), had their predictably racist emails exposed as part of a lawsuit (Don Jr.), been outed as a hoarder (Donald), and, perhaps most devastatingly, learned their half-brother Eric doesn't even know how old they are (Barron, who's 17, Eric!). Sounds like a shitty week for them, but a hilarious one for the rest of us.