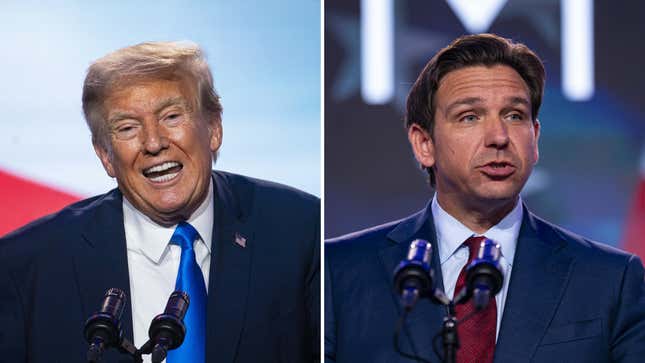 NBC News aired a disastrous interview with President Donald Trump on Sunday in which the GOP frontrunner spewed lies and steamrolled interviewer Kristen Welker. Trump also wielded the platform to act as if he's some kind of a moderate on abortion, by criticizing bans with no exceptions and bans as early as six weeks into pregnancy, and by claiming he would broker a national abortion compromise with Democrats. It's complete gaslighting from the person who appointed three Supreme Court Justices who voted to overturn Roe v. Wade, which got us where we are today.

The Filibuster is Standing in the Way of Abortion Access
Trump also used the interview to dunk on Florida Gov. Ron DeSantis (R), who remains his top rival for the GOP nomination, though he's a staggering 40 points behind in polling averages.
Here's an example of the combination gaslight and DeSantis dunk. Welker asked Trump if he'd sign a nationwide 15-week abortion ban and he evaded. "I think they're all going to like me, both sides are going to like me...What's going to happen is you're going to come up with a number of weeks or months, you're going to come up with a number that's going to make people happy." Welker pressed him again on a 15-week ban and he said, "people are starting to think of 15 weeks, that seems to be a number that people are talking about right now. I would sit down with both sides and I'd negotiate something, and we'll end up with peace on that issue for the first time in 52 years. I'm not going to say I would or I wouldn't." And then the pivot to Ron, whom he addressed by a favored nickname: "I mean, DeSanctus was willing to sign a 5-week and 6-week ban. I think what he did is a terrible thing and a terrible mistake."
But if Republicans were to pass a federal ban, Trump would surely sign—with or without any Art of the Deal bullshit negotiations. All he's doing here is trying to paint DeSantis as more extreme than him...and he quickly succeeded in getting the DeSantis team upset.

The rapid response team wrote on Twitter, "Trump says he will compromise with Democrats on abortion so that they're nice to him."
It's a little weird for these two to attack each other on abortion. Trump claims credit for the end of Roe, which allowed for state bans like the one DeSantis signed to take effect. And now the DeSantis team is acting like Trump isn't conservative enough on abortion even though, once again, he's the president who got Roe overturned.
Welker kept trying to get Trump to say whether he'd sign a national ban at some stage of pregnancy, and he lied and said, "It could be state or it could be federal, I don't frankly care." Recall that Trump bragged about killing Roe and alluded to a future federal ban by writing on Truth Social, "Without me there would be no 6 weeks, 10 weeks, 15 weeks, or whatever is finally agreed to."
Throughout the interview, he continued to spout delusions that he could "bring the country together" with an abortion compromise. Trump said things like, "Both sides are going to like me. I'm going to come together with all groups, and we're going to have something that's acceptable."
No nationwide abortion ban will ever be acceptable with Democrats, a good chunk of Independents, and anyone else who believes in reproductive freedom. Trump is just lying in order to lock up the nomination, which already seems pretty well in hand for him, but you never know what will happen as his multiple criminal cases hurtle forward. Trump clearly still thinks DeSantis could be a threat and is acting accordingly.