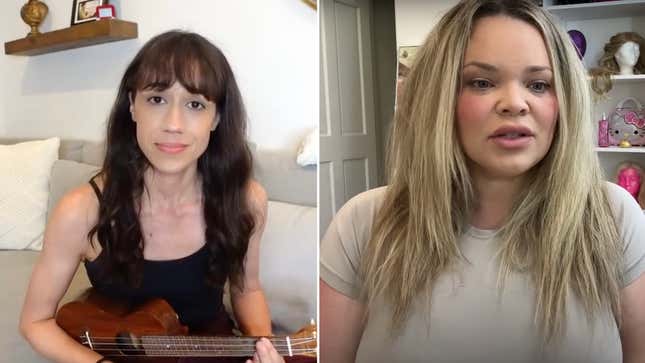 Colleen Ballinger—the disgraced YouTuber who allegedly groomed young fans and denied these allegations by way of a ukulele jingle—now faces additional allegations that she shared nude and sexual photos of fellow YouTuber Trisha Paytas with underage fans. This comes after Ballinger and Paytas started a podcast together earlier this year and were sharing new episodes as recently as June.

On Monday, HuffPost reported that two former fans of Ballinger's—Johnny Silvestri, now 27, and Adam McIntyre, who was a minor at the time—say they received these photos from Ballinger years ago. Both shared screenshots that appear to show Ballinger sending these messages. In addition to sending Paytas' sexual content to her fans, Silvestri also alleged that Ballinger hosted "viewing parties" for her friends to watch and mock Paytas' NSFW content. Silvestri claimed Ballinger sent him photos from those events.
On Monday, Paytas responded with a YouTube video making it clear her friendship and working relationship with Ballinger are over. "I don't stand by [Ballinger]," she said. "I'm embarrassed to be associated with her. I'm embarrassed for the fans that she messaged those to. That should never have happened." Paytas also apologized to any fans who may have received unsolicited nude photos of her from Ballinger: "I'm so sorry to that fan, if this is true. I know firsthand how traumatizing that can be. I had nothing to do with this."
Paytas explained that she hadn't yet publicly responded to the grooming allegations against her podcast co-host and former friend, not because she didn't believe them, but because she wanted to wait for more information to emerge. She continued to stay in contact with Ballinger out of concerns for her mental health, Paytas said.
But when she watched Ballinger's non-apology video last week, Paytas claims she was "shocked" that Ballinger chose to "brush it over" and "didn't just acknowledge the stuff that her own fans were saying, how they felt." Ballinger sent her a link to the video, Paytas says, but she couldn't even respond out of shock.
In light of the new allegations, Paytas clarified that she has "a very, very firm stance on talking to anyone underage, platonic or not," due to her own "trauma" from "relationships I had when I was underage." Paytas also emphasized her status as a "full-time sex worker" and her caution due to the "stigma and misconceptions" about people in her line of work.
"I do not condone at all unsolicited nudes, sending those to anybody," Paytas said. "Sex worker or not, I think using somebody's nudes as a way to hurt them, make fun of them, make light of them, be mean, is the lowest form of human, the lowest form of intelligence. I think that's so inhumane, I think that's so disgusting for anyone."
Acknowledging Silvestri's claims about Ballinger's "viewing parties" dedicated to making fun of Paytas, she said, "I'm the joke. My naked body's the joke, I guess. … I get made fun of all the time for my body, my nudes." Paytas continued, "Yes, I'm a sex worker and yes, I chose this job and yes, I make money doing it. But it never feels good to have someone just make fun of your naked body. It's just a really vulnerable thing."
Paytas claims that when she confronted Ballinger, she "assured me that she had never sent photos of me," and claimed instead "that this one fan who was underage at the time would send photos to her."
"She was like, 'No, he was a fan, he sent photos to me and he was obsessed with you… and once in a while I'd respond to him,'" Paytas said. But Paytas doesn't seem to believe her former friend, and even alleged Ballinger's behaviors "weren't a long time ago—this is someone well into their 30s, just gave birth, sending nudes."
Over the last several weeks, a handful of young, former fans of Ballinger's have publicly said the YouTuber engaged in inappropriate, often sexually explicit communications with them as minors, asking some if they were virgins and about sex positions. Eventually, her former fans say she inappropriately confided in them about her divorce and egged them on to spread hateful comments about her ex-husband on the internet.
In her now-infamous ukulele video last week, Ballinger seemingly confirmed much of these claims—while also suggesting she'd done nothing wrong. Per HuffPost's Monday report, it's not yet confirmed whether Ballinger is facing a criminal investigation for violating the law through her alleged communications with minors.
"Many years ago, I used to message my fans. But not in a creepy way, like a lot of you are trying to suggest. It was more of a loser kind of way. I was just trying to be besties with everybody," she sang. "There were times in the DMs when I would overshare details of my life, which was really weird of me." At one point in the video, Ballinger sings that she's "not a groomer, just a loser."