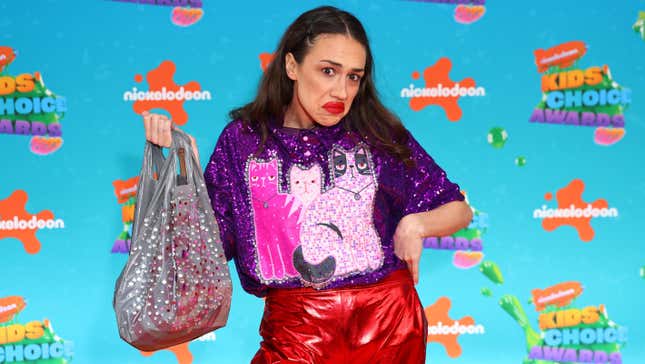 You may know Colleen Ballinger by her Miranda Sings persona—a character she's performed on YouTube for years who sports over-lined lipstick, a squinting eye, and a faked speech impediment. But now, people are flocking to Ballinger's YouTube page, which has 3.3 million subscribers, for a much darker reason. I'll give you a clue: It involves a 10-minute ukulele song about cancellation.
The 36-year-old entertainer has been making YouTube videos for roughly 15 years and was a staple in many millennials' teen internet experiences (along with Charlie the Unicorn and that banger, "Shoes"). But Ballinger has now been accused of grooming her young fans over the years—accusations she decided to meet with an overly long half-apology that's like a jump-scare, cancel culture version of Taylor Swift's "All Too Well (10 Minute Version)."

On Wednesday, Ballinger uploaded a video to YouTube titled "hi." in which she attempted to take "accountability" for having inappropriate relationships with teenagers, while also admonishing the "toxic gossip train." Her semi-spoken lyrics include, "Tie me to the tracks, and harass me for my past." (Very Swiftian, if you ask me.)
Ballinger admitted in the video that she "used to message my fans—but not in a creepy way, like a lot of you are trying to suggest. It was more of a loser kind of way. I was just trying to be besties with everybody." She described this as "weird aunt" behavior, acknowledging that "there were times in DMs when I would overshare," but that she had "changed [her] behavior and took accountability."

The deranged song apology arrived in response to accusations from multiple people. Some of the first came in 2020, when now-20-year-old YouTuber Adam McIntyre posted a YouTube video saying that Ballinger had forged an inappropriate friendship with him between the ages of 13 and 16 years old. He also claimed that Ballinger had sent him lingerie as a joke, allowed him to login to her social media, and texted him privately, while he was underage, for years.

Earlier this month, McIntyre uploaded another video, titled "my relationship with colleen ballinger," in which he claimed she had been "grooming" him and other teens during that time.
Johnny Silvestri, who started interacting with Ballinger when he was 16 years old, told HuffPost in a story published last weekend that he also had a personal texting relationship with Ballinger and that she often comped tickets for him for her live shows. Other young people, according to HuffPost, were part of a private group chat on Twitter called "Colleeny's Weenies," where Silvestri says Ballinger was emotionally "dumping" on them, many of whom were minors at the time.
"I just wanted to say that the only thing I've ever groomed is my two Persian cats," Ballinger sang in her response video Wednesday. "I'm not a groomer, I'm just a loser who didn't understand I shouldn't respond to fans. I'm not a predator even though a lot of you think so because five years ago I made a fart joke."
She continues: "I'm sure you're disappointed in my shitty little song/I know you wanted me to say that I was 100% in the wrong/well I'm sorry I'm not gonna take that route/of admitting to lies and rumors that you made up for clout."
To write a 10-minute original song in response to something as serious as child grooming accusations, presumably rehearse it multiple times, and then film the entire thing (in one take!) is absolutely deranged. Now, I think the world is owed two apologies: one for the initial alleged behavior, and another for this abomination of an apology video.