Bust out your scrapbook because you could soon be in possession of the autograph of George Zimmerman, the man who shot down teenager Trayvon Martin for being black and carrying Skittles. Jesus. Well, you might as well buy two because one day they might be collector's items. IN HELL.
Zimmerman announced the desperate grasp for cash on his website, stating that his defense fund — which at one point had over $140,000 — is now down to under 15k. Defending a murderer is costly work! Oh wait, no, according to Miami New Times, it's way shadier than all that:
The accused murderer landed in seriously hot water over the defense fund in April, when a judge first learned of its existence during a bond hearing. By then, Zimmerman had already burned through $36,000 — much of which was raised after a sympathetic hearing on Sean Hannity's Fox News Show — to pay off credit cards and cell phone bills.

The judge ordered Zimmerman taken off house arrest and held on $1 million bond; his wife also faced perjury charges.

Now, Zimmerman promises the fund will be "independently managed," and that the cash will go first to his living expenses, then to his defense costs, with only any leftover money going to his lawyers.
I totally believe him. Absolutely.
Best part about this whole thing is that when you buy the autograph make a donation, they'll mail it to you in an unmarked envelope. You know, like child porn.
G/O Media may get a commission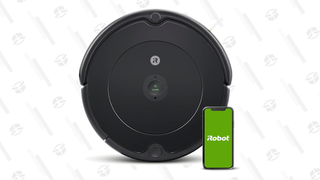 35% Off Black Friday Deal
iRobot Roomba 694 Robot Vacuum
George Zimmerman Is Now Selling Autographs To Fund His Defense In Trayvon Martin Case [Miami New Times]