If you haven't had a chance to see The Light Princess, Tori Amos' first major foray into musical theater, there's some good news: Mercury Classics has just released the original cast recording of the new musical and and you don't really have to know the story to enjoy it (although it helps). If you're already a Tori fan, you can look at it as a new album from one of your favorite artists, sung by other people. That's because it's impossible to hear it as anything but a Tori Amos record.
The musical, which opened to mixed (leaning towards positive) reviews in 2013, and which Amos called "a feminist fairy tale," follows the story of a princess who loses her ability to cry and follow the laws of gravity (she floats) shortly after her mother dies. Forced to run a country that has no water, the princess absconds and finds herself in love with the prince of the country her kingdom is at war against. There's lots of drama and intrigue, but it all ends happily, with [SPOILER] the princess marrying the prince she's in love with and leaving the running of her kingdom to her female prime minister while she follows her dreams of being a marine biologist. You know, the usual. If any of that sounds confusing, a libretto was published in 2013 and is available for the Kindle.
Amos's music has always been somewhat theatrical, so it was no surprise when she ventured into musical theater. In fact, the cast recording makes you wonder why this is the singer/songwriter's first major production, considering how well her work translates. The lyrics are clever, the score is quirky and complex, and the music is very reminiscent of Amos's most recent work, meaning that this recording wouldn't have been out of place if it had been packaged as a bonus CD with 2011's Night of the Hunters. You can hear echoes of her other songs in here (My Fairy Story, for instance, could have been a b-side on Little Earthquakes or Under the Pink), although, to be fair, the lyrics are just a little easier to follow than they would be if this were a true Tori Amos release.
Not every song is a hit, of course, and Amos' penchant for sticking way too many syllables into one line and then moaning a little to make it all fit could be annoying for some (especially because the tic starts early in the album). However, if you can get through through a moments of awkwardness—many tracks featuring a full chorus as opposed to soloists are a little off—you'll be treated to the beautiful voice of Rosalie Craig, who does most of the heavy lifting on the album as the titular princess. I especially recommend "Darkest Hour" (very Night of the Hunters and possibly the most "Tori" track on the album) and "Tears," which, like all the songs that work best on this album, are dramatic solo pieces accompanied by strings and piano.
Amos says that a version of the album with her vocals isn't out of the question—she recorded all the demos—but she wants listeners to hear the musical as a story and not just as another Tori Amos album. For fans, however, she's recorded two bonus tracks.
You can listen to the entire album on Spotify or check out selected tracks on The National Theater's website. It may not be Les Miserables or Phantom of the Opera, but The Light Princess is a fun listen and selections will likely make it onto your "rainy day" playlist in the very near future. And for those of us who can't make it to London to see it live, Amos says she'd love to see the musical on Broadway.
G/O Media may get a commission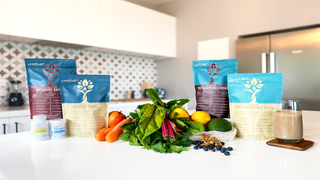 ---
Contact the author at mark.shrayber@jezebel.com.