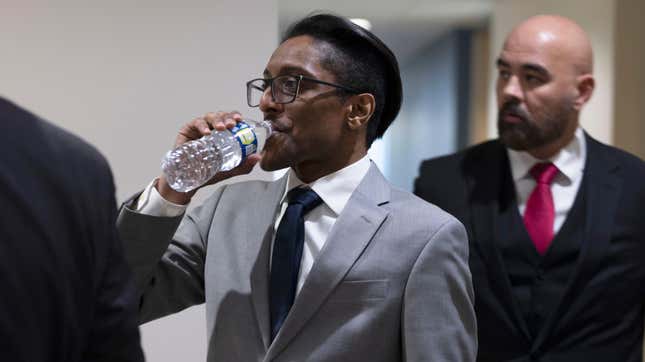 Pro-Trump Stop The Steal organizer Ali Alexander, who was accused of soliciting nude photos from at least two teenage boys, has denied anything "unlawful" in a statement straight out of 2007. "This is too gay," Alexander said on Telegram.
Ricky Gervais' "Jokes" Have Earned Him Dirt Bag of the Week!
"While my audience is familiar with me battling [same-sex attraction], others aren't as familiar. I apologize for any inappropriate messages sent over the years," Alexander wrote. "Forgive me. While having repented before God and confess at Church, I want my supporters and those involved to hear my apology today. When I've flirted or others have flirted with me, I've flexed my credentials or dropped corny pick up lines. Other times, I've been careless and should've qualified those coming up to me's [sic] identities during flirtatious banter at the start."

He continued, "Nothing unlawful has occurred. Seeing false claims alongside real messages is a deceptive technique. Some have retracted and other individuals say were deceptively edited which is why I waited. All of this is designed by a Literal Predator [editor's note: Alexander's capitalization] to take advantage of admitted sins and hurt my allies."
Those "inappropriate messages" were released by rightwing wing nut Milo Yiannopoulos as a part of the pair's escalating and months-long feud. According to the Daily Beast, which reviewed the messages, in 2017, then 15-year-old Aidan Duncan said he sent a nude photo of himself to Alexander after the rightwing activist asked, according to a podcast appearance last month.
While Duncan was a high-school sophomore just starting out in politics, Alexander was a 32-year-old with a decade of political work for the Republican Party behind him. And now he was willing to share the connections he had gained through that work with Duncan, as long as the teenager met certain preconditions, including secrecy.

"You'll have [me] sharing my entire network with you," Alexander told Duncan, according to Snapchat screenshots reviewed by The Daily Beast.
In 2017, according to screenshots reviewed by the Daily Beast, Alexander said he could help Duncan meet Yiannopoulos, who was still a massive deal in ultra-conservative circles at the time.
Here's Alexander's purported message to Duncan, per the Beast:
"Rolling with me?" Alexander wrote, according to the message. "Mostly. I'll have an Entourage. Depends. Ha. I mean, depends—if it's me babysitting you during the day, then no. I don't have kids. If it's something more entertaining, then maybe. All depends on what we're up to. No matter what, I'll let you meet Milo. There's probably five ppl I'll introduce to him. But who will be my arm candy—the one with me always in VIP and in/out? Well that is to be determined by the boy who plays his cards the most correct."

"Arm candy > baby sitting," Alexander added, according to the screenshot.
Apparently Duncan sent the nude photo, and Alexander sent back a heart eyes emoji and then asked where he could send money.
Yiannopoulos told the Daily Beast that he's releasing the videos and screenshots that he claims implicate Alexander, "because he used my name."
In undated messages, Alexander allegedly gave Duncan a contract. "Boundaries are cool," the message says. "Allowed to say no. However, the less you deprive me of, the less I deprive you of. I'm a big sharing person unless it's not even."
But by May 2019, Duncan (who was still a child at this time) didn't "send me videos anymore," Alexander wrote. "No good jack off material. Don't even wanna be my side piece."
Duncan, who is now 21, explained on Twitter where his headspace was when he messaged Alexander. "When I was 15 I was naive and desperate," Duncan wrote in a statement. "I thought I had no choice but to cooperate with inappropriate and humiliating requests if I wanted to make it in politics. I figured that was just the nature of the game."

Alexander is now threatening legal action. "There are no excuses. I'm going to use my resources and counsel to help causes I support (or sue some people) but my faith is in the future and new people leading our movements," he wrote. "I won't be a distraction or ruin my years of personal progress."