Gigi Hadid walked the runway for Tommy Hilfiger in February 2015, but was forced to cover her body in a hideous, oversized poncho with unfortunate dolman sleeves because she wasn't "quite as thin" as the other models.
This irritating news comes courtesy of Hilfiger himself who told Yahoo Style's Joe Zee – from The City remember?? –that Hadid's monstrous bod was simply too voluptuous to appear in any condition other than swathed in that ugly poncho you see above.
"Our casting director said, 'She doesn't really fit because you know she's not quite as tall as the other girls, she's not quite as thin,'" Hilfiger said. For the record, Gigi Hadid is 5'10. According to this reputable source, the average height of working models is 5'11. That single inch seems negligible at best, but I'm not a casting agent, just a regular person with eyes.
Anyway, the solution to old gal's insufficient body was that poncho. "It covered a lot of her body, unfortunately, but it received millions of hits," Hilfiger continued. My knowledge of fashion's metrics for success is not as robust as it could be but what precisely qualifies as "hits" for an item of clothing that is most likely unaffordable for the regular consumer? Oh well, it doesn't matter. She walked the runway later that year and wore a crochet bikini and not much else and she's designing a capsule collection with Tommy Hilfiger which debuted at Fashion Week this year, so all is not lost.
Update, 10:30pm: After these very comments about Gigi Hadid's perceived fatness "went viral," Page Six reports that Tommy Hilfiger clarified his position on the situation.
"The casting people put Gigi in the poncho, and I was not happy. I was saying, 'Don't hide her body.' Even though the poncho ended up being the best-selling piece, I was very unhappy. The suggestion that I thought she wasn't thin enough upsets me to no end. Gigi is the epitome of perfection."
G/O Media may get a commission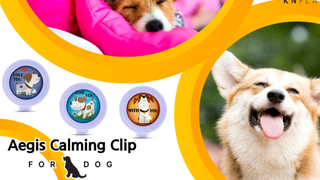 20% off
Aegis Calming Clip for Dogs
[E! News]
---
Here's a rumor that I don't know what to do with: Drake and Taylor Swift are reportedly enjoying "secret, small and intimate dinners" in L.A., as per an exclusive source for The Hollywood Life.
He's also hitting her with, uh, this:
"At one of the dinners he told Taylor he likes to be very secretive when he's getting to know someone and hit Taylor with his famous line 'I'm all on the low, take a famous girl out with me, no paparazzi' from the 'Versace' cut he did with Migos," the source said. "That made Taylor smile. She's not used to being talked to and charmed the way Drake does it. They're just friends and they're enjoying each other's company."
Lord.
---