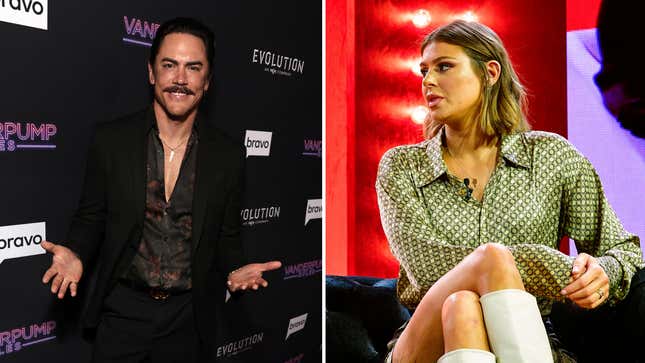 Lately, it's been all quiet on the Bravo front, but if you were hoping for more shrapnel in the ceaseless news cycle that is #Scandoval, I suggest you hunker down.
Raquel Leviss Told Us 'I'm Like, A Good Person' Just 48 Hours Before #Scandoval
On Tuesday, TMZ reported that Vanderpump Rules' Tom Sandoval took his mistress, Rachel "Raquel" Leviss home to meet mom and dad in December 2022, approximately three months before news broke of their affair. At the time, Sandoval was still very much in a relationship with his partner of nine years, Ariana Madix. Oh yeah, he did that.
Per the tabloid, Sandoval thought it was high time to introduce Leviss to his hometown of Saint Louis during the holidays. His loved ones, however, did not. Probably because he still had a whole girlfriend, and as far as we know, he and Madix were not practicing non-monogamy.
Our sources say Tom's family knew Raquel was with him in town, but had no interest in meeting her. We're told they thought it was inappropriate for him to bring another girl home while he was still with Ariana — and they didn't support his seemingly new, secret relationship with Raquel.
His friends, however, did have the pleasure of making Leviss' acquaintance as they were reportedly told that Sandoval "tried" to break up with Madix. This could just be a shot in the dark but I'm sure if he'd informed Madix that he was secretly sleeping with one of her close friends and castmates, his attempt would've been a little more successful.
Regardless of his family's less-than-enthusiastic show of support, Sandoval and Leviss looked to have a pretty good time. Oh yeah, there's a cringe photo of them posing in front of the Apotheosis of Saint Louis together.
This bombshell arrives on the heels of Tom Schwartz's appearance on Watch What Happens Live, in which he spilled that Leviss is Sandoval's "heroin," and that he'd known the pair had been cavorting since at least August 2022. Schwartz also divulged that at a certain point, his castmates weren't exactly hiding their affair.
"Tom kind of got flagrant. He was brazen after he told me he was in love. It was like a release for him," Schwartz continued, claiming that his best bud and business partner told him he'd "broken up" or "attempted to break up multiple times" with Madix. "He told me he has a game plan, that he's going to do the right thing, and he just continued to procrastinate."
You don't say!