Writer/director/intellectual/mannequin Tom Ford, one of a few gay men in Hollywood whom I (with considerable delusion, by the way) consider to be my personal nemesis, was profiled by Taffy Brodesser-Akner in GQ this month, and decided to share more of his wackadoo thoughts about life, death, fashion, taking "three to five power baths" a day, and the way men should and should not live their lives.
Consider the lede, in which Ford reveals that he thinks like a high school boy who has taken his first hit from a joint:
Tom Ford thinks about death all day, if you want to know the truth. "I look at a puppy and I think, 'Oh my God, that puppy's so beautiful. Oh, it's just going to be old and die.' And that makes that puppy even more beautiful." He leans forward. "I like flowers. They're beautiful. I think, 'Well, they're going to be dead in three or four days, but my God, aren't they beautiful now?' " He leans back and exhales. "Everything's so transient," he says. "Everything dies."
While we're on the subject of everything dying, Ford says his 4-year-old son Jack is "so happy" because he hasn't learned "the secret." And that secret, he says, "is that he's going to die." But Jack isn't as happy as he could be, as Ford has banned him from wearing a favorite pair of shoes outside the house. Writes GQ:
A sore subject in the Ford household: Jack has some light-up dinosaur shoes, and sometimes he tries to wear them to school, and when Ford catches him doing this, he has to step in. "What does Dada say about the dinosaur shoes?" "They're tacky." "And when are we allowed to wear them?" "On weekends."
G/O Media may get a commission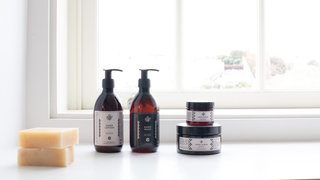 Exfoliate and Hydrate
The Handmade Soap Company
This must be exhausting for you, but I have one more whopper to share. At one point in the piece, Ford explains that men would "understand women" if they'd get fucked every once in a while.

Yes, he says, all men should be penetrated at some point. And not as in emotions. He means: All men should be fucked. "I think it would help them understand women," he argues. "It's such a vulnerable position to be in, and it's such a passive position to be in. And there's such an invasion, in a way, that even if it's consensual, it's just very personal. And I think there's a psyche that happens because of it that makes you understand and appreciate what women go through their whole life, because it's not just sexual, it's a complete setup of the way the world works, that one sex has the ability to literally—and is expected to and is wanted to—but also there's an invasion. And I think that that's something most men do not understand at all.
Tommy, my good man, if you think the most fundamental part of womanhood is being penetrated by a dick, I don't know what to tell you. Wait, yes I do, shut up.
[GQ]
---
After considerable time in the headlines for his financial woes, everything's (finally) coming up roses for 50 Cent. Rolling Stone reports the rapper/actor "was awarded $14.5 million stemming from a malpractice suit the rapper filed against a law firm that represented him in a headphones lawsuit."
He celebrated this victory by posting (and promptly deleting) an Instagram post with a caption that read, "I just got 14.5 million back from one Law Firm For malpractice. They fucked up so bad, I don't think they should be practicing Law."
The celebration, however, was short-lived. Writes Rolling Stone:
"...it's unlikely 50 Cent will see any of that award, as most of it will go toward satisfying the $23 million bankruptcy settlement he agreed to in July, pending approval, Forbes reports."
Though you might soon find him in the club, the bottle of bub he's holding might just be sparkling water.
---
Here is a very bad tweet:

Here is a very good tweet:
---
Lmao here's Prince William pretending to understand the stresses of people who work normal jobs. Nice try, my pal, but you're in line to be the literal King of England. [Celebitchy]

A lot of Lemonade was written in the shower. [Page Six]

"I advise everyone to see Moonlight." - Dame Helen Mirren [Page Six]

Imagine if these two were actually dating. [TMZ]

How does Johnny Manziel still have money? [Celebitchy]

One time my brother listened to me mispronounce "Manziel" for a while and said, "It would be like you listening to me mispronounce Kardashian."